This article looks at the salaries of Ospreys rugby players.
It's true that individual salaries are private contracts and the details are not disclosed by the club or the WRU (Welsh Rugby Union).
However, the WRU recently agreed on a restructuring of wages with the regions. Plenty of details came out from this process.
How Do Ospreys Rugby Players Get Paid?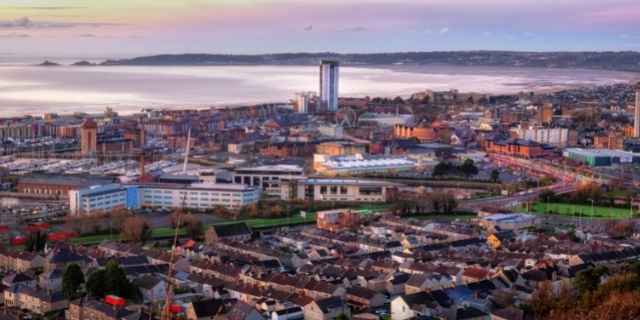 First, let's take a look at how the players are paid. It's not just through club wages.
Their entire salary can be made up of several income streams:
Monthly salary from the franchise
Brand deals and image licensing
Playing for Wales (test match fees and win bonuses)
Touring with the British & Irish Lions (every four years)
Brand And Image Licensing Deals
Brand deals and sponsorships from third parties can be worth very different amounts across players.
Image licensing can be paid by third parties to use player photos in their advertising. This varies from huge brands (e.g. sports and retail) to local firms.
I won't go into detail on these deals because the amounts vary so widely.
However, in our article on Cardiff rugby salaries, I cheekily showed a rather cringe-worthy ad from one of their legends. To be fair, let's do something similar for a former Ospreys start.
This was voted second in the worst celebrity adverts of the year (there was a whole video of Henson dancing).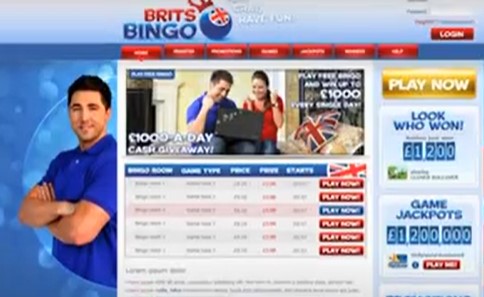 Who Pays The Ospreys Players?
In the latest salary scheme in Wales, the Union pays 80% of the salary of the top 38 players who play for the four regional clubs.
Ospreys pay 20% for players who fall into this top category. Then they pick up the full wage bill for every other player in the squad.
So, who are the region's players in the elite 38? Well, the WRU doesn't publish the list. But it's not too difficult to work out the most likely.
Typical elite profile
These will be players who are regular picks in recent international squads.
But the list will also include a few players whose international days are waning but will be called up in an injury crisis.
And the WRU may want to reward some up-and-coming players on the edge of international call-up but in danger of being poached by England.
Ospreys in the 38
Here are the Ospreys I expect to be paid primarily from the WRU. They will also be the top earners at the club. We'll get into salaries a little later.
Adam Beard
Alun Wyn Jones
Dan Lydiate
George North
Nicky Smith
Justin Tipuric
Owen Watkin
Rhys Webb
How Have Covid Restrictions Impacted Salaries?
The 2020/21 domestic season was shortened due to Covid restrictions. Match attendances were also curtailed.
TV revenue was reduced due to fewer matches. The drop in gate receipts also hit the club income.
The WRU negotiated pay cuts with the regions in 2021. Players in the senior squad took a 25% cut in earnings. Academy players were exempt from the cut.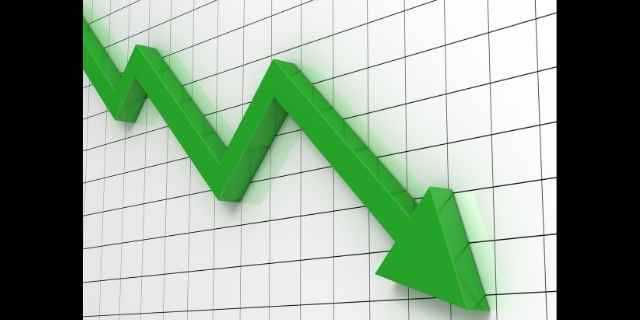 This article uses the averages and reported salaries of more normal times. You can mentally reduce the figures in this article in the immediate aftermath of the pandemic.
Ospreys Salary Ranges
The WRU has laid out seven bands of salaries that must be adhered to by every Welsh franchise in the United Rugby Championship.
If you want a more in-depth explanation of the wage structure than what we give here, check out our article on Welsh rugby salaries. This gives a detailed description of each band.
Let's start with the two lowest bands. Academy players earn about £15-20K. When they step up to their first professional contract, they can expect to double their salaries.
Here are the bands for the more experienced players.
| | | |
| --- | --- | --- |
| Salary Band | Salary Range | Typical Ospreys Players |
| B&I Lions | 250K – 450K | Alun Wyn Jones, George North, Rhys Webb |
| Seasoned Internationals | 180K – 300K | Adam Beard, Dan Lydiate, Justin Tipuric |
| Early Internationals | 110K – 180K | |
| Marquee Players |   Up to 160K | |
| Established Players | 48K – 130K | |
This graphic shows a somewhat simplified version: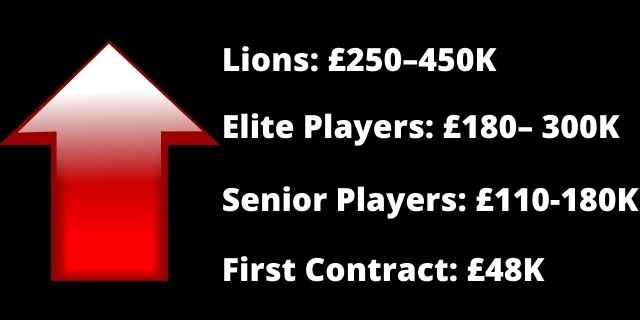 Lions premium
Ospreys have a lot of Lions on their books. But who gets into the Lions top category isn't always clear.
Unless the name is Alun Wyn Jones, of course. There is no doubt that he is the highest-paid player in the club.
And George North is a banker for the premium band. He toured in 2013 and 2017 and only missed out on South Africa due to injury.
But there are other cases that aren't so clear-cut.
Justin Tipuric was selected for the 2021 Lions tour but had to withdraw due to injury. Dan Lydiate toured in 2013 to Australia but wasn't selected for the last two tours.
Do they get into the top tier? Possibly not. Both are likely to be at least at the high end of the "seasoned internationals" band.
The same can be said for Adam Beard who was a late call-up to the Lions in 2021. I assume that he went looking for an upgrade in his next contract renegotiations.
Who Are The Highest Earners Below The Top Tier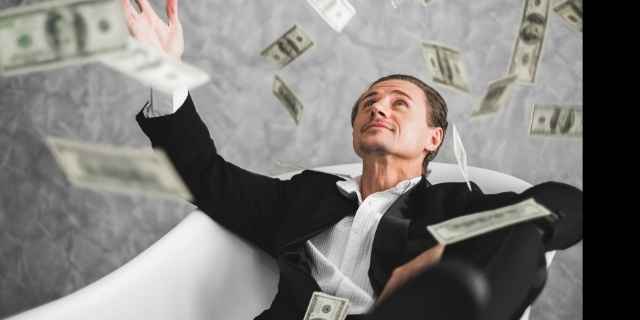 English flyhalf Stephen Myler is the kind of player to be considered marquee status.
His international days are long gone and he is coming to the end of his career. But his experience is of high value and I'd expect him to be at the £190K levels.
Prop Ma'afu Fia is a very experienced Tongan prop who will also command a similar amount.
How Much Do Ospreys Players Get For Playing For Wales?
Match fees are about £5,500 with extra bonuses for image rights.
Wales has won several Six Nations championships in recent years. That brings a tidy win bonus per player of over €17K for the tournament success.
The British And Irish Lions Top Up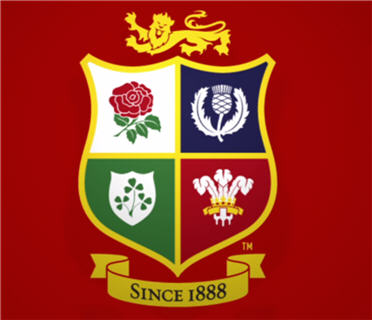 The tour that comes around every four years is a good bump to a player's salary that year. The 2021 tour paid about £75K to the squad members.
Two Ospreys were on the South African tour (Tipuric had to withdraw before it began and Adam Beard was a late call-up):
If the Lions had won the 2021 series in South Africa, the dynamic duo would have received £10K as a bonus. Unfortunately, they came home without the additional funds.
What About Other Welsh Clubs?
Check out these articles to see how the Ospreys compare to other Welsh clubs.
What About Other Countries?
Welsh fans often wonder how much players earn in neighboring countries. Here you go:
These overviews will also give you links to detailed articles about individual clubs and provinces.
Ospreys also have a smattering of southern hemisphere players in the squad. Check out our article on how much rugby players earn in New Zealand.