This article examines the salaries of professional rugby players in the big four regional clubs and how much they are paid for playing for Wales.
It's true that individual salaries are private contracts. However, Wales has gone through a recent restructuring of its payment system and a lot of details are publically known.
How Do Professional Rugby Players Get Paid In Wales?
Before we look at average and top sums, we should break down how professional rugby players get paid in the principality.
Players are contracted to one of the four regional clubs that compete in the United Rugby Championship and European competitions.
Each regional franchise is under the governance of the Welsh Rugby Union (WRU).
Four professional clubs
These are the four:
Cardiff (formerly known as the Blues)
Dragons (formerly known as Newport Gwent Dragons)
Ospreys (formerly known as Neath Swansea Ospreys)
Scarlets (formerly known as Llanelli Scarlets)
Don't ask about the name changes! It's too complicated for this article.
Dual contracts (phasing out)
Under a recent payment system, most professional players were paid entirely by their clubs.
However, Wales was concerned that they were losing their top international players to English and French clubs.
So the WRU introduced a payment known as National Dual Contracts. Under this system, the clubs paid 40% of the player wages, while the WRU paid 60%.
About twelve players were on National Dual Contracts. This is how they broke down by club when it was announced that the system would be phased out:
| | | | |
| --- | --- | --- | --- |
| Scarlets | Ospreys | Cardiff | Dragons |
| Jonathan Davies | Alun Wyn Jones | Gareth Anscombe | Hallam Amos |
| Gareth Davies | Dan Lydiate | | |
| Leigh Halfpenny | George North | | |
| Jake Ball | Bradley Davies | | |
| Samson Lee | Scott Baldwin | | |
New payment system
A new payment system was negotiated between the WRU and the regions as part of an overall restructuring known as "project reset". We'll focus on the payment aspects in this article.
There are several major changes.
Firstly, the WRU now picks up the tab of 80% of a player's salary if they fall within the system.
Another big change is that 38 players in Wales fall within this system. That basically covers a full national squad.
The third big change was the introduction of salary bands that define what players can be paid.
We'll review these in the next section. You should be able to predict what most players are earning based on these bands.
Impact Of The Pandemic
The numbers I'll give you in this article reflect earnings before the Covid pandemic curtailed the rugby season.
The WRU negotiated pay cuts with the regions in 2021. Players earning above the academy tier took a 25% cut in earnings.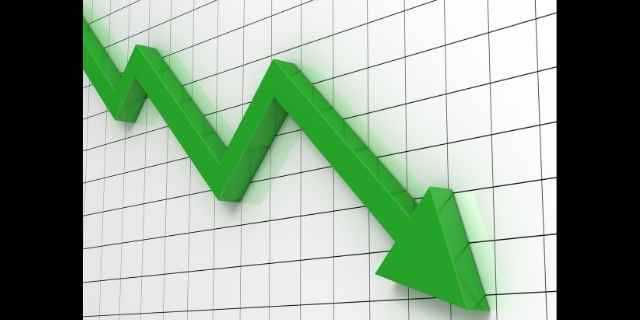 With that said, let's go look at the salary ranges.
Welsh Rugby Salary Bands
There are seven salary bands in Welsh rugby. This section gives a detailed explanation of what each band means. But let's start with a summary:
British and Irish Lions
Seasoned internationals
Early internationals
Marquee club players
Established club players
Young players on their first professional contract
Academy players
Salary ranges within each band
Here are the salary ranges within the individual bands.
| | |
| --- | --- |
| Band | Sterling |
| B&I Lions | 250K – 450K |
| Seasoned Internationals | 180K – 300K |
| Early Internationals | 110K – 180K |
| Marquee Players | Up to 160K |
| Established Players | 40K – 110K |
| First Pro Contract | 20K – 40K |
| Academy Players | Up to 20K |
Welsh Salary Bands
Here is a somewhat simplified summary: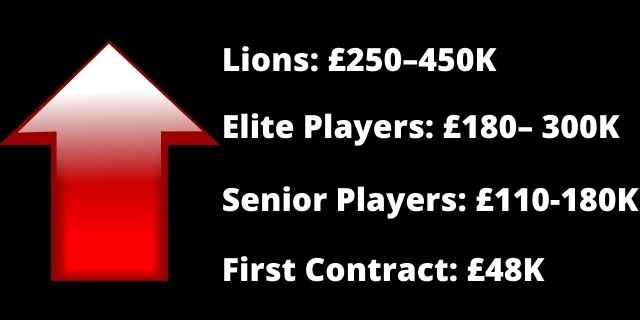 Lions As The Top Tier
As far as I'm aware, the WRU is the only rugby union that explicitly bases payments on whether players are selected for the British and Irish Lions.
Given that the Lions tour once every four years, it seems a rather odd choice for the top tier. Aside from that, the WRU doesn't control who gets called up.
If you want to learn more of some of the headaches this has caused, check out our article on Cardiff player salaries.
Regardless, being a Lion is the top tier of payment for international Welsh rugby players.
Other International Tiers
The next tier down is for seasoned internationals. These are the top Welsh players with many test caps but who missed out on a Lions tour.
Below this tier are the early internationals. These are usually the young guns with a Summer tour to the United States behind them. Or they've got a few games off the bench in the Six Nations.
Below The International Tiers
Not every professional player gets to be an international. There are four more tiers beneath international level.
Four? Yes, because the WRU never likes things to get too uncomplicated.
Marquee professionals
The top non-international level is for marquee professionals. This term shouldn't be confused with some other Unions that use "marquee" to denote star international players.
In Wales, these are key players to a club who are not playing international rugby.
They may be crucial players who are long longer being selected for test rugby but are vital to the club in their leadership and experience.
Established professionals
Below the marquee professionals, there is a tier for established professionals. These are the experienced club players who never quite made it to regular international call-ups.
Before you get to be established, you have to get your first professional contract. There is a tier precisely for players on their first contract.
Finally, we get to the lowest rung of the ladder. This is for the club academy players who aren't on professional contracts.
Whew. That's seven bands. Now that we've explained how it's structured, let's take a look at the actual salaries involved.
We'll also review Welsh rugby players who don't play in Wales. Some of them are very well paid indeed!
Who Are The Highest Paid Welsh Players?
Alun Wyn Jones is not only a seasoned Welsh international and captain. He also captained the British and Irish Lions.
The legendary lock is considered to be the highest-paid rugby player in Wales. His salary is estimated at £450K.
Other Lions
Here are the other players who went on the 2021 Lions tour while they were playing in Wales:
Josh Adams
Gareth Davies
Wyn Jones
Josh Navidi
Ken Owens
Louis Rees-Zammitt
Jason Tipuric
We can expect these players to be on at least £250K, with the exception of young Louis Rees-Zammitt.
But these aren't the only Welsh players who are on the Lions dividend. Jonathan Davies and Ross Moriarty were selected for earlier tours and are seasoned internationals. They will also be on the top tier of at least £250K.
Rees-Zammitt is an interesting case because he was picked for the Lions at such an early stage in his career. His salary bracket would be in the "first pro contract" band of up to £40K. Did he suddenly shoot up to £250K?
Probably not But he could certainly negotiate a major salary hike in his next contract.
Star Welsh players outside of Wales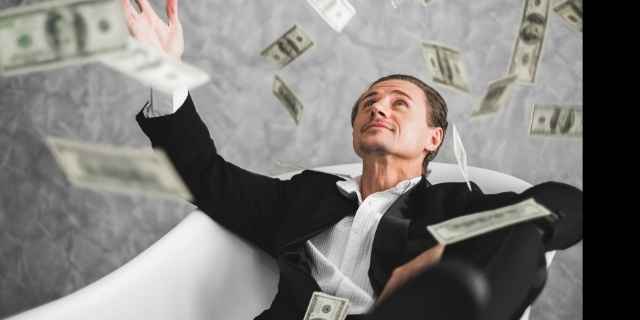 Liam Williams left Scarlets to play in England. Our article on Saracens player salaries notes that Williams was reportedly on a salary of about £300K.
Taulupe Faletau is another high earner outside of Wales. Our article on Bath rugby salaries notes that he is reportedly on a salary of about £475K.
Who Is The Highest Paid Welsh Rugby Player?
Flyhalf Dan Biggar tops all Welsh players, including his national captain.
Our article on Northampton Saints salaries notes that Biggar is reported on a salary of about £600K per year.
More Details About Club Salaries
This article is an overview of the payment structures and the highest earners. We also have detailed breakdowns for each of the regional franchises. Check these out:
How Much Do Players Get When Playing For Wales?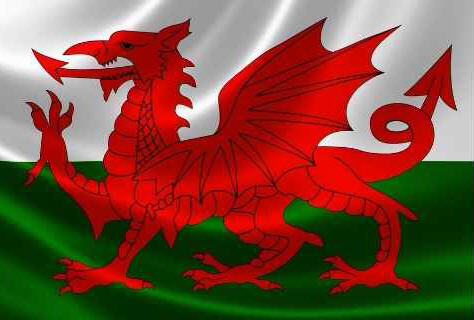 Players earn additional match fees and image rights when they are selected to play in international tests.
The current figures are about £5,500 per match and an annual image rights bonus of £1,500.
However, the extras don't stop there. The WRU pays handsome bonuses to players if they win the Six Nations championship. Wales has done very well in the historic tournament in recent years.
The winning bonus is nearly £17K for the championship win.
How Much Do Players Get For Being Lions?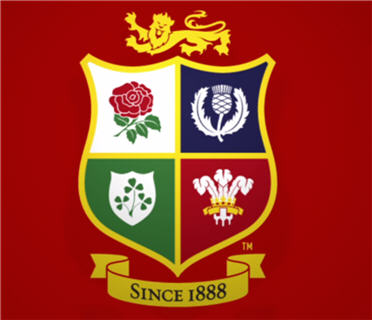 We've seen that Welsh players who tour with the Lions get a premium salary from the WRU.
But do they also get paid by the Lions? Well, yes they do. The tournament can be a nice top-up to the usual salary.
Squad players earned about £75K for the 2021 tour to South Africa. This doesn't apply to the unfortunates who can't join the tour or have to leave it through injury.
If the Lions had won the 2021 series, the Welsh players would have got a tasty bonus of £10K. Unfortunately, they returned home without the extras!
How Do These Salaries Compare To Other Countries?
The top Welsh players are very well paid. But how do the salaries compare to other countries?
Let's take a look at Welsh neighbours.
How does this compare to Ireland?
Leinster out-half Jonny Sexton is the highest-paid rugby player in Ireland.
His overall contract is reputedly worth £554K (that's about €650K in Euros).
There are other highly paid stars who are well paid but earn less than this. You can check out the details in our article on how much Ireland rugby players earn.
How does this compare to England?
We have an article that looks in-depth on how much England rugby players earn.
I'll mention here that the top two earners are outhalf Owen Farrell on about £750K per year and Maro Itojo on about £825K.
How does this compare to Scotland?
Two Scottish rugby players are amongst the top highest earners in the world. But both play outside of Scotland.
The two Scotland professional clubs also have some high earners. You can check out the details in our in-depth article on how much Scottish rugby players earn.
How does this compare to the French Top 14?
Stars in France can earn considerably more, particularly when it comes to the number ten jersey.
Scottish outhalf Finn Russell is reputed to be just shy of one million euro. Meanwhile, South African outhalf, Handre Pollard is over a million euros.
You can get more details in our article on how much rugby players can earn in France.
Rugby Quiz!
Think you know your rugby?

Let's see if you can match the quote to the player or coach!
Here are seven quotes. How well will you do?