George Ford signed his latest contract with Leicester Tigers in 2021, the club that he first played for as a teenager. However, he'll be moving to Sale Sharks for the 2022/23 season.
This article looks at George Ford's salary. We'll examine his current rugby contract, and what factors led to his ability to negotiate his high value.
We'll look at how he compares with teammates at his club and with the players in the same position in other Premiership clubs.
What Is George Ford's Current Salary?
George Ford's salary is currently about £600K at Leicester Tigers. This is five times the average Premiership salary.
Ford's next contact with Sale Sharks runs from 2022 to 2024 and is reputed to be about £660K. As he will be in his early 30s, this may be his last contract.
To put his age into context, Ford was born in 1993. The average retirement age of flyhalves in the Premiership is about thirty-three, which gives Ford several good years left in his career.
Older players in other positions often see lower salaries as they enter the final stage of their careers. However, flyhalves tend to be the highest-paid players in most elite leagues.
How Does Ford Compare To Other Players?
It's worth looking at two different comparisons:
how Ford compares to other players at his club.
how Ford compares to other flyhalves in England.
Let's start with the club.
Is George Ford the highest-paid player at Leicester Tigers?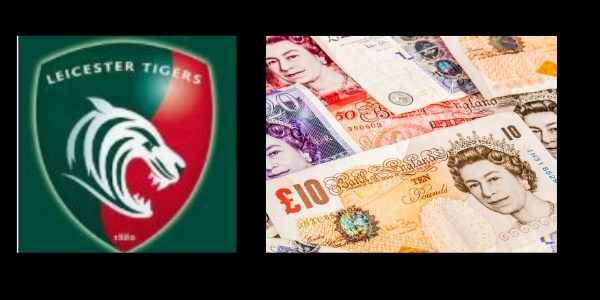 George Ford is the highest-earning player at Leicester Tigers. He earns about £200K more than loosehead prop Ellis Genge.
Fijian winger Nemani Nadolo is another highly paid player at the Tigers. But his salary is less than half of George Ford.
You can read more in our article on player wages at Leicester Tigers.
How does Ford compare to other flyhalves in England?
There was a time when George Ford was the highest-paid flyhalf in the Premiership. But that was when Saracens had been kicked out of the top tier of English rugby.
Owen Farrell still earned more than Ford but he was in the Championship, not the Premiership!
Now that Saracens have moved back up, Owen Farrell resumes his position as the top-earning flyhalf.
We estimate that Ford is second place for flyhalves in England, while Dan Biggar takes the third position with his earnings at Northampton Saints. Marcus Smith may end up surpassing them all, but he hasn't yet!
You can read more in these articles:
What Factors Contribute To Ford's High Salary?
In our overview of salaries in English rugby, we estimate that the average salary in the Premiership is about £120K per year.
That level of pay can be expected by the many experienced players in the Premiership who never quite made it at international level.
But Ford is a highly experienced England player, who was the starting flyhalf in their semifinal and final in the 2019 World Cup. That puts a premium value on a player.
However, Ford has never nailed down the starting position for England throughout his career. That puts a ceiling on his salary negotiations. Let's take a look at how Ford has fared with England.
Lengthy England career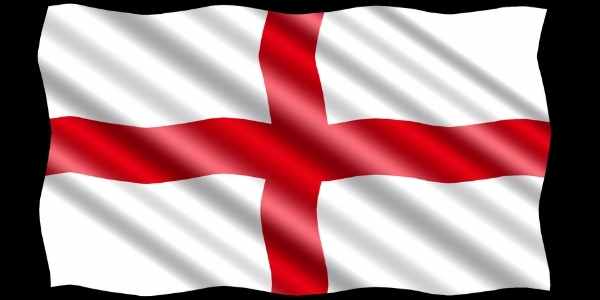 Sometimes it seems like George Ford has been around forever.
That may be because when he made his first start in the Premiership as flyhalf for Leicester in 2011, he was the youngest to do so in the history of the league!
But well before that, a fifteen-year-old Ford was playing for the England Under-18s team. He had to wait until 2014 before he made his debut with the senior England team in the Six Nations.
The 2015 World Cup was the start of a theme that would later be repeated throughout Ford's career: he was replaced as England's flyhalf by Owen Farrell.
However, Eddie Jones was a fan of Ford's when he took over as England coach. Jones installed Ford as his starting flyhalf in the 2016 Six Nations, with Owen Farrell slotting in as inside center.
But Farrell was the preferred placekicker. He would also replace Dylan Hartley as captain of the national team. This made Ford's position more precarious.
Ford was dropped as the starting flyhalf in the 2018 Autumn internationals and the 2019 Six Nations. However, he started at ten in the semi-final and final of the 2019 World Cup.
Ford's main rival as starting flyhalf had long been Owen Farrell. He'd seen off Toby Flood early in his England career and staved off a challenge from a more mature Danny Cipriani.
Cipriani was once the wonderboy of English rugby but it never quite clicked for that skillful player. Now, Marcus Smith is the new kid on the block.
It looks like young Smith will push George Ford out of England teams.
In fact, Ford was dropped from the initial England squad named for the 2022 Six Nations. Ironically, an injury for his old rival Owen Farrell ensured he was brought back into the fold.
Playing at ten
Position on the field is a factor that plays a major part in player salaries.
Esportif are sports agents who publish statistics for which positions earn the most in the Premiership. This is the list in descending order:
Flyhalf
Fullback
Scrumhalf
Locks (either 4 or 5)
Tighthead prop
Centres (12 or 13)
Blindside flanker
Wings
Loosehead prop
Openside flanker
Eight
Hooker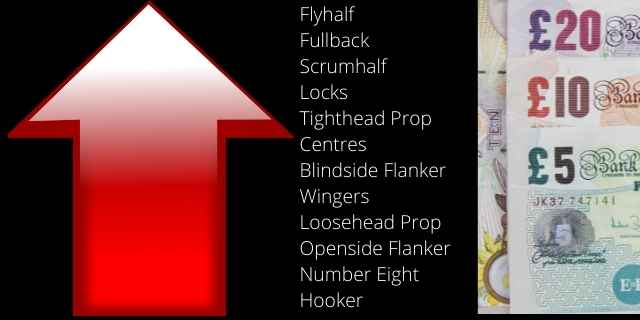 George Ford is a specialist flyhalf.
As you can see in the list above, this is the highest-paid position across the Premiership. Incidentally, this is the same in the Top 14 and the United Rugby Championship.