Are you following your team to Kingsholm in Gloucester? Every rugby fan should attend at least one match in this famously raucous old stadium.
To get the most up-to-date advice on travelling to Kingsholm, I surveyed supporters from across the England Premiership. I also got great travel advice from Gloucester fans living elsewhere who return home for matches.
Irish rugby fans provided plenty of tips on hotels, pubs, and other things to do in a weekend. Three of the provinces have played Gloucester in European competitions in recent years. It's Leinster's turn next!
Advice On Seating And Standing Areas In The Stadium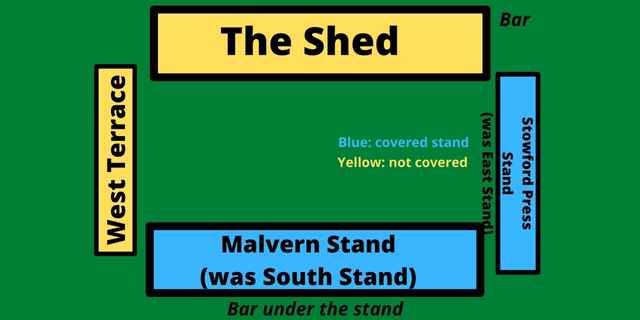 If you ask a local supporter about which stands are covered, you may get confused when you go to buy a ticket online.
Gloucester has renamed all of its stands and terraces in recent years for sponsorship and funding. If an older fan tells you that the "South Stand" is sheltered, you'll be scratching your head at the names displayed on ticketing websites.
I'll run through each the advantages and disadvantages of each area and give you the old and new names.
The Shed
The Shed has been renamed several times. It's been "The Greene King Shed" and "The Compeed Shed".
But everybody still calls it The Shed. This is a standing area that is uncovered.
This is where the loudest home supporters collect to roar on their team. When people talk about the great atmosphere at Kingsholm, they are talking about the noise generated by The Shed.
The noise and atmosphere is only enhanced by the low roof, which gave the area its nickname.
The local fans don't just cheer their own players on. They also roar at opposition players who apparently are the only transgressors on the pitch.
There are plenty of boos for referees who fail to see that the Gloucester players are angels at every ruck (my tongue is firmly in my cheek).
I prefer to be covered from the elements so I've never bought a ticket for The Shed. But a Saracens supporter described it to me as a cross between being at a Roman Circus and a rowdy pantomime.
Here are the best tips I've gathered:
Tickets may have numbers on them but there is no allocated places (or seating).
People who arrive first get to choose where they stand
Shorter people should get there early so they can get to the front
There is a bar at the east end (the Stowford Press end)
Malvern Tyres Stand
This used to be the South Stand and it's the largest stand in Kingsholm. Some locals also refer to it as the Main Stand.
The stand is covered and it has allocated seating.
Gloucester usually try to keep The Shed for home supporters when allocating tickets. This means you're likely to meet up with plenty of your own team's fans in this stand.
That makes for good fun. If there's enough of you, try to get some chants and cheers going. You'll soon get a response from the opposite side!
I watched Scotland play Japan in the 2015 World Cup in the cheapest seats in line with the in-goal area. The view was fine and the big screens showed me the action at the far end of the pitch.
There is a large bar behind this stand if you want drinks immediately before the match. However, it's not particularly popular with local supporters (soulless is how one fan described it).
Here are some tips if you're seated here:
If you want atmosphere with your pre-match pints, check out the bars outside the stadiuem (we've put the best in a later section)
Avoid getting tickets in the last section by the West Terrace end – it's behind the dead-ball line (but cheap!)
Stowford Press Stand
This was known as the JS stand but has changed its name. If you're wondering, Stowford Press is a Gloucestershire cider. I recommend it!
This is a covered stand behind the east-side goal posts with allocated seating.
The usual drawback is that you only get the benefit of one of the large screens (there are two in the stadium).
Of course, the main benefit is that the tickets are cheaper than the larger stands.
West Terrace
This is an uncovered standing area.
The terrace did have a name change in recent years. But the sponsor was a betting company and there was local opposition at the time. It seems to have reverted to the former name.
As its uncovered, be sure to bring rainproof clothing. Gloves and scarves are also in order.
Stadium Facilities: Pros And Cons
I checked with some rival Premiership rugby fans in 2022 and they all said that there weren't notable queues for either drinks or the toilets.
However, some of the more popular food trucks had sizeable queues. Several fans recommended the Cornish pasties and roast pork rolls at the food courts.
The alcoholic drinks were considerably pricier than in pubs outside the grounds. But that is the case in most stadiums I've been to.
Here are the main things to know in advance:
Wi-Fi doesn't work well in many areas of the stadium (despite being recently installed)
Spoken announcements on the PA system are nearly inaudible
Most vendors only take contactless payments (so bring a card)
If you like commentary in your earphones, tune your FM radio to BBC Radio Gloucester
Disabled Facilities
Despite being an old stadium, the disabled facilities in Kingsholm have been revamped in recent years and are as good as anywhere else.
All the gates are wheelchair-accessible. The stewards will escort any disabled supporter to their seat.
The main issue that people reported is not within the stadium. It's the problem of getting parking close to the stadium.
If you are bringing a car, you should arrive up to an hour before the match.
Getting To Gloucester By Air
Birmingham and Bristol have the closest airports to Gloucester. Both are about an hour away by car or train.
The advantage of Birmingham International is that it has both a train station and a coach for onward transport.
Bristol airport doesn't have a train station, although it does have a coach and bus service.
If you're travelling from Ireland, then there's little reason to fly into one of the London airports. The problem with London is that the long train journey to Gloucester can be very expensive.
Once you arrive at an airport, your next choice is whether to take the train, bus, or hired car. Read on…
Getting There By Train
The central train station in Gloucester is about a ten-minute stroll to Kingsholm. There are signposts all the way.
If you're thinking of taking the train then my best advice is to be aware that peak times in England are far more expensive than most European countries. It's often more expensive than flying internationally.
The trick is to book off-peak flexible day tickets through one of several online sites. Here are two (there may be booking fees):
From Birmingham
If you fly into Birmingham International, take the train from the airport to the New Street train station.
From there, you can take direct trains from New Street to Gloucester (and to Cheltenham if that's where you're staying). The journey is about an hour.
From London
The quickest way from London Is to get the fast train to Paddington. From there, you switch to the direct train to Gloucester.
Unfortunately, this can also be very expensive. There are cheaper train options to Paddington, including the Tube and overground trains. But you'll have to change trains, so make sure you have plenty of time planned in.
The most cost-effective way is to take a National Express coach (bus) from London direct to Gloucester. Heathrow has this option.
Getting There By Car (Or Van Or Minibus!)
I'll assume that you're using Satnav or a map on your phone so I won't give directions here.
Instead, I'll give some tips if you're taking the 2 ½ hour drive from London.
You may be tempted to break the journey by stopping off in the picturesque Oxford for a bite to eat and a stroll around the town.
Just be warned – the roads around Oxford can get very congested. You could find yourself more delayed than you were intended. And Oxford has a complicated one-way system.
Gloucester folk gave a recommendation of the Wheatsheaf pub in a town up the road named Northleach.
Where To Stay In Gloucester And Nearby
Ten years ago, the recommendation for traveling supporters was to stay in nearby Cheltenham Spa instead of Gloucester. The reason was that the racing town had better restaurants, pubs, and modern hotels.
When I stayed overnight in Gloucester during the 2015 World Cup, I was charged a high price by a rundown hotel that had seen better days.
But the development of the docks area in Gloucester has greatly improved the local scene.
There are good restaurants and lively pubs by the docks. There are also relatively new hotels that are within a reasonable budget.
This has also freed up the pressure on the older hotels in terms of supply and demand. In other words, the accommodation isn't as expensive as it used to be.
Where To Stay In Cheltenham
Cheltenham is only a ten-minute ride on the train from Gloucester. There are about three trains every hour between the neighbouring towns and the return ticket is cheap.
Just be sure that you check the times of the last train. You can expect them to stop some time between 10.30 pm and 11 pm.
The other thing to be aware of is that the train station in Cheltenham is a good twenty-minute walk from the town centre.
Great Rugby Pubs In Gloucester
You can't get a more genuine rugby pub in England than Teague's Bar on Kingsholm Road. And it is literally a three-minute walk from the stadium.
The Teague family are entwined with Gloucester rugby. Iron Mike Teague played in the back row for both club and country. He started for England in the 1991 World Cup.
His older brother Gary played in the backs for Gloucester. He now runs Teague's Bar. You can be guaranteed that it will be full of cherry and white supporters on match day.
They always have a welcome for rival supporter with plenty of chat.
However, they aren't the only good rugby pub in town. There are several others that roll out the welcome mat for big groups of traveling supports. If you're traveling on your own, this is a fun way to meet up with like-minded fans!
The Coach and Horses on Catherine Street is a frequent assembly point for traveling fans.