Professional rugby players are taller on average than the general population.
Lock forward is the tallest position in Rugby Union with an average height of 1.99 meters (6'6'').
Richard Metcalfe was the tallest ever international player at seven feet. But it's rare to see players above 6'9'', which is the height of Irish international lock Devin toner.
This article looks in-depth at how players compare to other sports and the general population.
It's important to know that rugby positions vary greatly in height. If you want to take up the sport and are smaller than your friends, some positions may be perfect for you!
How Tall Are Professional Rugby Players?
This bar chart shows the average height in metres of male professional players in 2019 across the three big European domestic competitions: English Premiership, French Top 14, and Celtic Pro 14.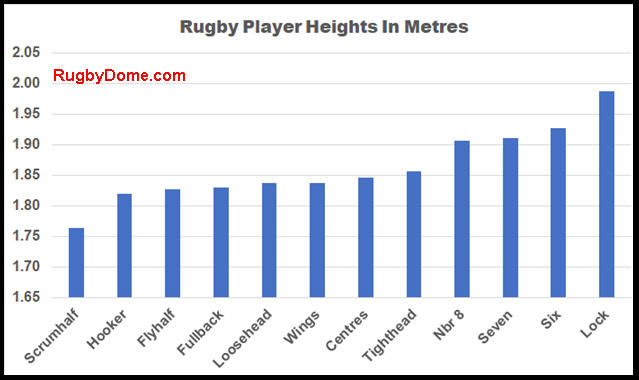 The table below has the raw data in meters or feet and inches.
The sizes are ordered from low to high. As you can see, scrumhalves and locks are the shortest and tallest players respectively.
| | | |
| --- | --- | --- |
| Position | Metres | Ft/In |
| Scrumhalf | 1.76 | 5'9" |
| Hooker | 1.82 | 5'11' |
| Flyhalf | 1.83 | 6′ |
| Fullback | 1.83 | 6′ |
| Loosehead Prop | 1.84 | 6′ |
| Winger | 1.84 | 6′ |
| Center | 1.85 | 6'1" |
| Tighthead Prop | 1.86 | 6'1" |
| Openside Flanker (7) | 1.91 | 6'3" |
| Number 8 | 1.91 | 6'3" |
| Blindside Flanker (6) | 1.93 | 6'4" |
| Lock | 1.99 | 6'6" |
Are Rugby Players Taller Than The Average Person?
Let's put this into context with the general populations of the three countries involved in these leagues.
| | | |
| --- | --- | --- |
| Country | Meters | Ft/In |
| United Kingdom | 1.76 | 5'9" |
| Ireland | 1.78 | 5'10'' |
| France | 1.80 | 5'11'' |
As you can see, rugby players are taller on average than the general population.
The exceptions are scrumhalves, who are usually the shortest players in every team (there are exceptions, of course).
How Do Rugby Players Compare With American Football Players?
Let's take a look at how the heights of rugby players compare with their counterparts in American football.
This bar chart shows the numbers from the NFL across various positions ordered by height.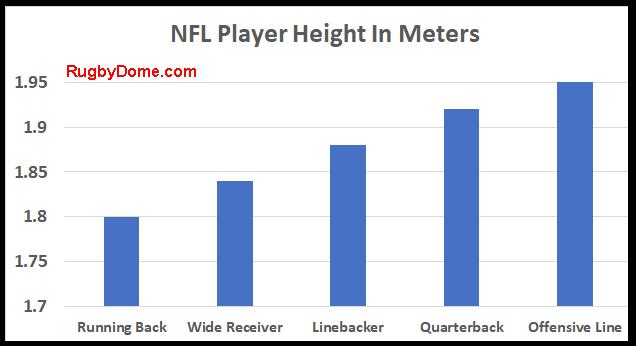 This table has the raw data from the bar chart.
| | | |
| --- | --- | --- |
| NFL | Meters | Ft/In |
| Running Back | 1.80 | 5'11" |
| Wide Receiver | 1.84 | 6'0" |
| Linebacker | 1.88 | 6'2" |
| Quarterback | 1.92 | 6'3" |
| Offensive Line | 1.95 | 6'5" |
Interestingly, there is a wider range of heights in rugby than in the NFL.
Running backs and offensive linesmen are the shortest and tallest positions in the NFL.
The average for scrumhalves in rugby is two inches shorter than running backs. In contrast, locks in rugby are an average of one inch higher than offensive linesmen.
Average heights in the United States
But we should also take the average male height in the United States into account. Before I looked this up, I assumed that Americans would be taller than Europeans.
But that's not the case. The average height for an American male is 5'9'', which is the same as the United Kingdom.
But I wonder if the wider diversity of the United States is a factor in this comparison. Unlike other sports, people of Asian heritage are less likely to play in the NFL.
Who Are The Tallest Players In Rugby Union?
Lock forwards are the tallest players in rugby. The average height of a lock is 6'6'' or two meters.
But why is this position the tallest? The main reason is their role in the lineout.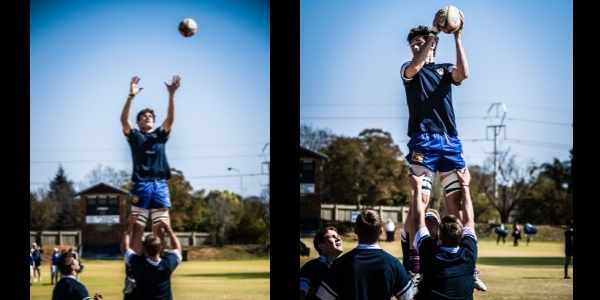 Lock isn't the only position that jumps to catch the ball in a lineout. But as they are the tallest players, they are the main jumpers. They also compete on the opposition throw.
In earlier times, lifting wasn't allowed in the lineout so height was even more important.
However, the introduction of legal lifting hasn't eliminated the need for height. But it does mean that many locks are lean in build so that their teammates can physically hoist them into the air.
Tall kids at school
Once boys have hit their growth spurt, life gets easier for school coaches at the start of a new school year.
The small kids with good hands are scrum halves. The other small kids go on the wing.
Then you've got the kids who are an inch or so taller, but they're also strong and chunky. They go into the front row.
And the tallest kids are picked at four and five i.e. they become locks.
Well-Known Tall Players In Rugby Union
The average height for locks is 6'6'', but you'll see much taller players than that.
Here are some international lock forwards who stand out for standing tall!
| | | | |
| --- | --- | --- | --- |
| Player | Country | Meters | Ft/In |
| Maro Itoje | England | 1.97 | 6'5'' |
| Brodie Retallick | New Zealand | 2.04 | 6'7'' |
| Richie Gray | Scotland | 2.07 | 6'8'' |
| Devin Toner | Ireland | 2.1 | 6'9'' |
Notice that the Maro Itoje is below the average height for a lock. Itoje also plays in the back row as a blindside flanker (number 6).
Smaller locks often double up as flankers. Coaches love this (as long as they're good!) because a player like this on the bench covers multiple positions.
Do You Have To Be Tall For Rugby?
You don't have to be tall to play rugby. There are some positions, like lock forward, that require players to be taller than the average height.
But a shorter height has advantages in other positions like scrumhalf.
South Africa won the 2019 Rugby World Cup with Faf de Klerk at scrumhalf and Cheslin Kolbe on the wing. Both players are 1.7 meters or 5'6".
So, smaller players aren't restricted to scrumhalf. Cheslin Kolbe is acknowledged as one of the best wingers in the world.
Other Physical Characteristics
Check out some of our other articles on this website:
What about women's rugby?
Female players of course have shorter average heights. But does the distribution across the positions look similar?
Check out our article on the average heights of female rugby players.
Sources For Heights
The rugby statistics come from RugbyPass. They published heights by position in the English Premiership, the French Top 14, and the PRO 14 (a combined league across Ireland, Scotland, Wales, and Italy).
The NFL statistics come from an academic paper.