Rugby is a growing sport in the USA, but just how popular is it?
The playing numbers and television audience are dwarfed by the big five U.S. sports of baseball, basketball, ice hockey, football, and soccer.
However, rugby now has a professional tournament to add to historic college competitions.
This article looks at rugby's popularity using several different factors:
Number of professional rugby franchises
Attendances at professional rugby matches
General participation (people who play at any level)
Television audiences for Major League Rugby
Popularity of rugby in Google searches (compared to other sports)
Number Of Professional Rugby Teams In The U.S.
There are twelve professional rugby teams in the U.S. that play in Major League Rugby (MLR).
Texas has three franchises, while California has two. The rest are mostly on the East Coast.
One Canadian team is also part of the league.
Where are the MLR franchises based?
This map shows the locations of the MLR franchises across the United States.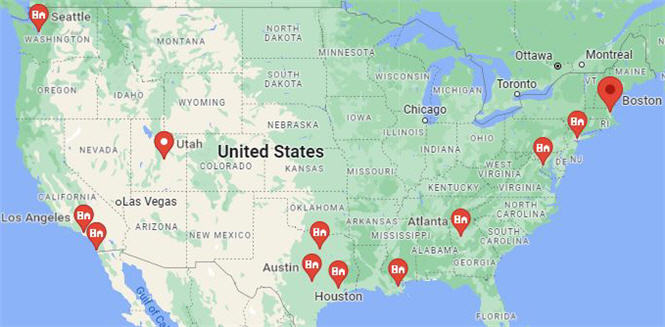 There are seven teams in the Western Conference and six teams in the Eastern Conference.
Here is a list by city and state with a professional rugby franchise.
| | | |
| --- | --- | --- |
| Team | City | State |
| Seattle Seawolves | Seattle | Washington |
| Utah Warriors | Salt Lake City | Utah |
| LA Giltinis | Los Angeles | California |
| San Diego Legion | San Diego | California |
| NOLA Gold | New Orleans | Louisiana |
| Old Glory DC | Washington DC | Washington |
| Rugby ATL | Atlanta | Georgia |
| Austin Gilgronis | Austin | Texas |
| Houston SaberCats | Houston | Texas |
| Dallas Jackals | Dallas | Texas |
| New England Free Jacks | Boston | New York |
| RUNY | New York | New York |
Attendances At Professional Rugby Matches In The U.S.
7,500 people attended the championship game (final) of the 2021 MLR season.
But what about average attendance in the normal schedule?
Well, it's hard to get up-to-date numbers out of the MLR. As a new and growing league, they seem a bit reluctant to publish the figures.
However, they released figures for a match between Utah Warriors and Dallas Jackals in March 2022. This had a very respectable figure of 3,608 people in attendance.
How Many People Play Rugby In The U.S.?
Let's look at the number of rugby players in the U.S.
Because rugby is a contact sport, all players at amateur clubs must be registered with the national union. This ensures that a basic level of insurance is available.
We compiled the figures from USA rugby to work out this breakdown.
| | |
| --- | --- |
| Adult Club Players | 31,205 |
| NCAA Teams | 30,255 |
| High School Teams | 28,711 |
| Youth Programmes | 12,267 |
Our category of adult club players includes professional and amateur clubs.
When we include college, senior amateur, and professional players, the total number of adults playing rugby is over 61K people.
Popularity As Shown By TV Viewership
How many TV viewers watched the final or championship match? And what about the average audiences across all televised matches?
The 2021 championship match was aired on CBS and drew an audience of over 2 million viewers.
That was an increase from a base of 500 thousand in 2019 (the interim year was skipped due to the pandemic).
How does viewership compare with other sports in the U.S.?
To better gauge popularity, let's take a look at figures for some other sports in recent years.
| | |
| --- | --- |
| Lacrosse Premier Lacross League (championship match) | 340 thousand |
| ESPN's Monday Night Football (Week 7) | 3.7 million |
| College Football (Tennessee vs Alabama) | 4.7 million |
| MLB average across 2019 | 4.75 million |
| NBA average in open week of 2019 | 1.8 million |
How Popular Is Rugby In Google Searches?
Google provides a display of how search terms are trending over time.
This graph shows how "Rugby" has trended from the summer of 2018 to the spring of 2022.
The rugby trend is the yellow line that runs along the bottom of the graph.
Don't pay much attention to the numbers on the X-axis, those represent an internal Google metric (as opposed to searches).
Where it gets interesting is comparing lacrosse to other "niche" sports in the United States: lacrosse (in blue) and volleyball (in red).

These sports have different peaks throughout the year.
By the way, that massive spike for volleyball in August 2021 was due to the Tokyo Olympics. Rugby also gets the bounce because Sevens has been in the Summer Olympics since 2016.
And here's another comparison of rugby's popularity in the United States from 2018 to 2022.
Rugby is in blue, while Minor League Baseball is in red. I also threw the fast-growing new sport of Pickleball into the mix. It's the yellow-orange line.