There are two second rows in a rugby league team. They are part of the six forwards on the team.
They are also known as second-row forwards or second-rowers.
They traditionally wear the number eleven and number twelve jersey. This article looks at the crucial role of rugby league second row forwards in attack and defence.
We have a separate article on the role of locks in rugby union.
Positioning
The position gets its name from where the two players take their place in a scrum.
Although scrums aren't a big part of modern rugby league, they are still used to restart play in various scenarios. The two players are positioned behind the first row. In other words, in the second row!
The number 11 lines up on the left of the scrum and the number 12 is on the right. This picture shows the alignment.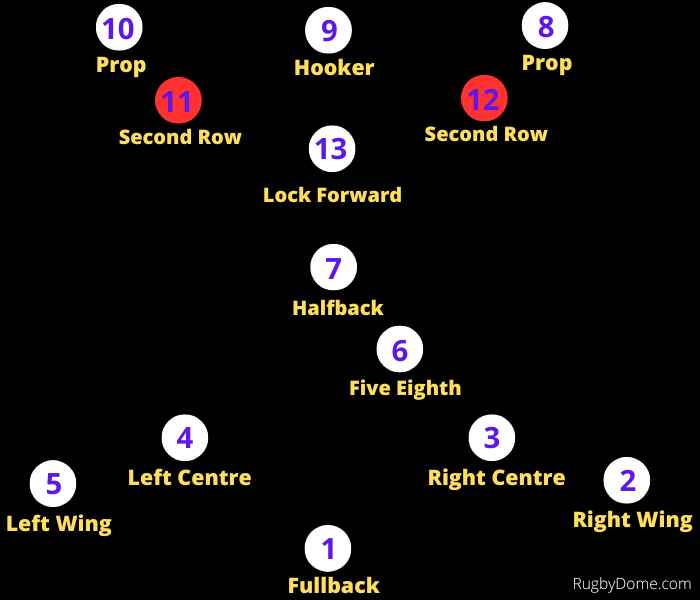 What Do Second Rows Do In Attack?
Second rows tend to be among the larger players on a rugby league team. Typically, only the props in league are bigger.
However, second rows need a degree of mobility and speed around the field. This combination of strength and mobility defines their role in attack.
They are expected to use their size and strength to make powerful carries. Because of their speed, they can make line breaks by running onto the ball at pace and bursting through the defensive line.
They are expected to have enough agility and handling skills to execute deft offloads by passing the ball to a teammate as they are tackled.
Their speed also means that they get involved in kick chase. When their team kicks the ball downfield, second rows will race forward to put pressure on the opposition kick receivers.
Coaching philosophy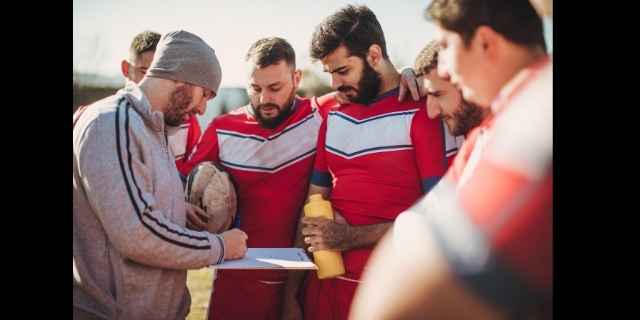 It may seem to be asking a lot of one position to be both hard carriers and deft offloaders. In reality, different coaches tend to put more emphasis on one aspect over another.
Some coaches may focus on a more direct, power-based game, asking second-row forwards to prioritize strong ball carries and taking on defenders head-on.
Other coaches might emphasize a more offload-heavy, free-flowing style, where second-rowers are encouraged to look for offloading opportunities to keep the ball alive and create space for their teammates.
Role Of Second Rows In Defence
Second row forwards tend to be some of the top tacklers in a rugby league team. Because of their size and strength, they are expected to make dominant tackles to stop the ball carrier's momentum.
They also have the role of cover defenders due to having more speed than props. This means that they provide support to their teammates in case of a missed tackle or a line break.
Second rows may also be assigned marker defense. This means that they stand in front of the play-the-ball to prevent the half from making a direct break or exploiting gaps around the sides of the ruck area.
Difference Between Number 11 And Number 12
Aside from how they are positioned in scrums, there is no real difference between the 11 and 12. The fundamental roles and responsibilities are the same.
The only reason for a coach to put a second row in the left or right position is when the player has more experience defending with the left or right prop and the left or right loose forward.
Much of defending requires keeping connected and constant communication. When players know each other, their combined defense tends to be more effective.
Famous Second Rowers In League History
Here are two famous second-row forwards from two different countries.
Sonny Bill Williams
The New Zealander was a dual-code rugby player who excelled in both rugby league and rugby union.
He was renowned for his athleticism and offloading abilities. Even now, when a young player makes a great offload, it's known as "doing a Sonny Bill".
Williams played for several rugby league clubs, including the Canterbury-Bankstown Bulldogs and the Sydney Roosters. He won the NRL premierships with both.
He also represented New Zealand in rugby league, winning the Rugby League World Cup in 2008.
Sam Burgess
Sam Burgess is an English rugby league player who earned a fearsome reputation for his physicality, work rate, and ball-carrying abilities.
He played for the South Sydney Rabbitohs in Australia and was a key part of their winning the 2014 NRL Premiership.
Burgess played for Great Britain at international level.
Compared to Sonny Bill Williams, Burgess was less successful when he transitioned briefly to play rugby union. But his reputation in league remains undimmed by that short dalliance.