If you watch footage of rugby matches from the nineties, you'll notice quite a few differences. One of the most obvious is that modern rugby players wear tight shirts.
Why has the style changed so much? Is it just a matter of fashion? No, there are very serious match-winning reasons for tight shirts.
Why Do Rugby Players Wear Tight Shirts?
Rugby players wear tight shirts to make it more difficult for opposing players to tackle them successfully.
Defenders are less able to grab a fistful of material in the tackle or to tug the shirt backward during a chase.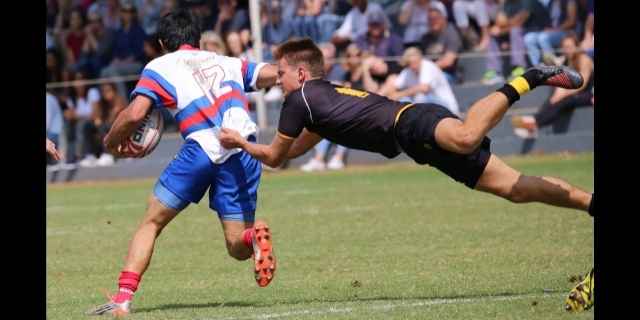 Tight shirts also provide a psychological edge by highlighting muscular torsos.
You may be wondering if grabbing and tugging is actually legal. Sometimes it is, and sometimes it isn't! We explain in our article on whether you can grab shirts in rugby.
When Did Rugby Players Start Wearing Tight Shirts?
Rugby league players were the first to start wearing tight shirts. Commentators for the 1997 British Championship Cup final noted that the shirts of the Bradford Bulls were tighter than normal.
Bradford had tightened their shirts the previous season. Their cup win in 1997 popularized the style.
Rugby Union teams didn't adopt the new style until a few years later. Before the change, rugby shirts had been made of cotton and were quite baggy.
Here's a still from the year 2000. It's a Six Nations match between France and Ireland, and a young Brian O'Driscoll has just scored one of his three tries in the game.
The shirt is billowing out behind him as he wheels away after dotting down.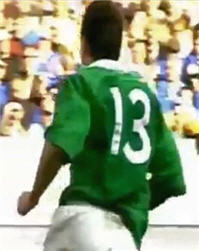 Fast forward nine years later to Ireland playing France in 2009.
It's the same player in his national shirt, walking back from another fabulous try. Sure, he's filled out his frame – but the shirt is clearly a much tighter fit.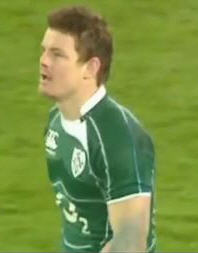 If you'd like to see that awesome try – and also some footage that shows the bagginess of the earlier shirts, take a look at this quick video.
That's a big jump in years between 2000 and 2009. What happened in between? Well, England won the 2003 World Cup. But let's not get ahead of ourselves. This story starts the year before.
Sir Clive Woodward And England's New Shirts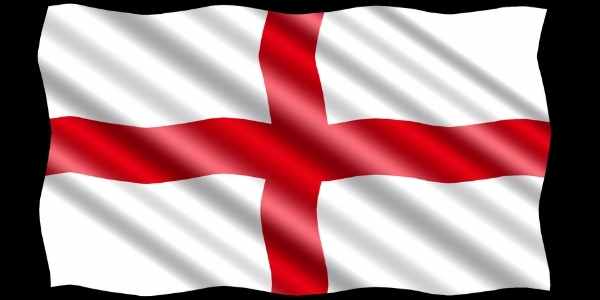 England hammered Scotland in the 2002 Six Nations Match (the clash is known as the Calcutta Cup). Legendary flyer Jason Robinson ran in two tries, but his national coach was not happy.
Clive Woodward was England's coach at the time. When he analyzed the match videos, he decided that Robinson would have got a third try if the Scottish defenders hadn't been able to grab hold of his shirt.
So, the wily coach requested a tighter design from the national team's kit suppliers. This happened to be Nike.
Nike's new skin-tight design
This is what Clive Woodward said about his innovation.
"We highlighted this almost two years ago to Nike…they [Scotland] kept on grabbing hold of his [Jason Robinson's] shirt and I sent an email to Nike with a throw-away line 'watch these three moments'"

Sir Clive Woodward, 2003
Nike's shirt designers went to work and produced a skin-tight design for England in 2003. However, this wasn't exclusive to England.
Nike was also the kit supplier to France and South Africa. The three national teams would enter the World Cup in the skin-tight design.
Did Clive Woodward invent tight rugby shirts?
I've seen people gripe about Woodward claiming to invent tight rugby shirts. But this is unfair. He is more circumspect about his involvement.
I've already mentioned that Rugby League players had started wearing tighter shirts.
In Rugby Union, the All Blacks are often the great innovators in the game. New Zealand players had certainly started wearing tighter shirts before 2003.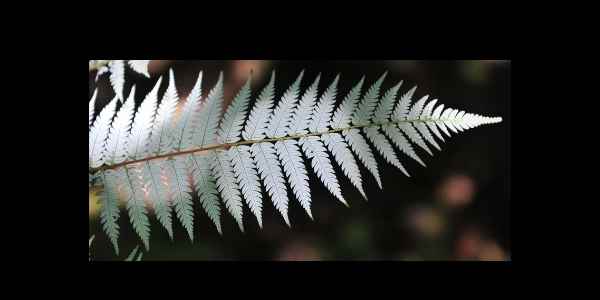 Woodward acknowledged that the All Blacks had tightened their shirts before England. He just figured he'd improved their innovation.
England and France played a warm-up match before the World Cup in August 2003. Woodward told journalists they were going to see something special in jersey design.
The coach acknowledged that New Zealand was already going with this style, but he had a caveat:
"I don't think they are as tight as the ones you will see on Saturday…it's very tight and very light"

Sir Clive Woodward, 2003
How Did Nike Create The Tight Style?
Nike worked with a British company that specializes in sports product testing.
Progressive Sports Technologies was tasked with testing the new shirt fabrics under the stress of tackling.
The Loughborough firm attached a standing crash-test dummy to a harness and dressed it in the new Nike shirt.
They then attached a gripping device to the jersey. This device was mounted on a track, and could be yanked backward at speeds of 10 meters per second.
Think of a player like Jason Robinson sprinting at full pace with the ball. Now think of a defender grabbing his shirt in a flying tackle. That's the yanking and dragging force they were trying to emulate.
Nike kept sending the company different designs to test. Eventually, the giant shirt manufacturer settled on the optimum configuration of materials.