If you look closely at the arms of rugby players, you'll notice that many write messages on the tape wrapped around their wrists.
A few years ago, the World Rugby authorities tried to crack down on this practice. But they relaxed their stance after a clamor of protest.
Let's take a look at what and why rugby players write on their wrists. And then we'll review the problems that this has caused within the sport.
What Do Rugby Players Write On Their Wrists?
Rugby players write three types of messages on their wrists. Some write the names or initials of close family and loved ones.
Others write inspirational messages to motivate them within a game.
And some write messages of support for causes or people that they want to promote.
In the next sections, I'll show you close-ups of some examples.
Family and loved ones
This All Black is paying tribute to his parents. Nobody would dare tell big Kiwi flanker Jerome Kaino that he shouldn't honor his folks.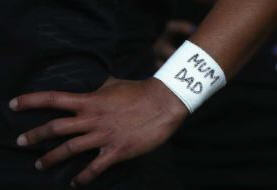 This wrist belongs to Wallaby Christian Lealiifano who has written his son's name on the tape. Many other players have names or initials of their children.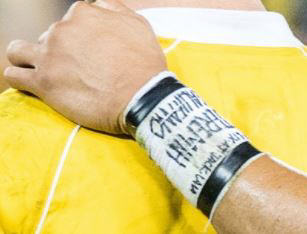 Remembrance
Sometimes, initials on wrist tape represent names of a recently deceased person close to the player.
I know of young club players who all wrote the same initials on their tape for a season. This was the name of a teammate and friend who sadly died before his time.
Inspirational phrases
No, the player pictured below isn't legendary Springbok prop, the Beast. The wrist belongs to another Kiwi flanker. This time it's Jordan Taufua.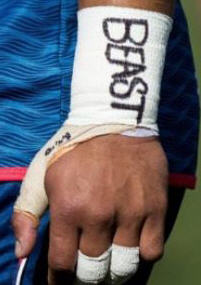 In this case, the player has written an inspirational message to himself. Basically, be a BEAST on the pitch!
Never Give Up
I don't have a close-up photo, but Irish international prop Cian Healy has been spotted with "NGU" written on his tape. Yet, the Irishman has never explained whether these are initials or possibly an acronym.
There is speculation that the letters stand for "Never Give Up". Of course, this is a classic phrase for athletes in all sports. So, why bother to write it on his wrist?
The elite teams employ sports psychologists to provide mental training to players. The psychologists realize that a lot is going on in the middle of a game.
A prop like Healy has to remember the lineout calls and the attack moves off a scrum while also trucking up the ball into heavy collisions.
So, the coaches give players short phrases or mantras to help refocus when they're picking themselves up from the deck.
In this case, Healy can glance at his strapping and use the visual cue to concentrate on the next phase of play.
Protest Messages
Here's a group of Irish club players before a match. The women have all written "#Legacy" on their wrists.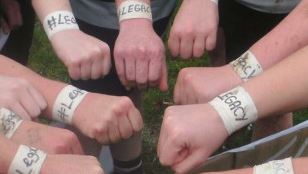 Seems like a simple uplifting message, right? Not exactly!
The Irish Rugby Union had published a report with some lofty goals about using the women's World Cup to establish a "legacy" for female sport.
Then the organization promptly axed the women's full-time head coaching position and advertised for a part-time role.
There was widespread anger amongst female players in Ireland about this move. These Irish cub players wrote #Legacy on their wrists as a protest with a touch of irony.
Of course, this wasn't the first time that players had used messages on their wrist to support a cause.
Standing Rock
In 2016, the Maori All Blacks went on tour to the United States.
Prop Kane Hames took a deep interest in the protests of Native Americans in Dakota against an oil pipeline running through the Standing Rock Reservation.
Hames wrote a message of support on his wristband for the indigenous American communities. It simply read "Standing Rock".
It may not have been widely noticed if the cameras weren't trained on the prop as he ran over the line to score a try against the Eagles.
This episode didn't end well for the player. The New Zealand Rugby Union made it clear that they didn't want political messages on players' kits.
And that was just one Union. The following year, the World Rugby authorities stepped in to have their say.
World Rugby Tries To Ban Messages On Wrist Tape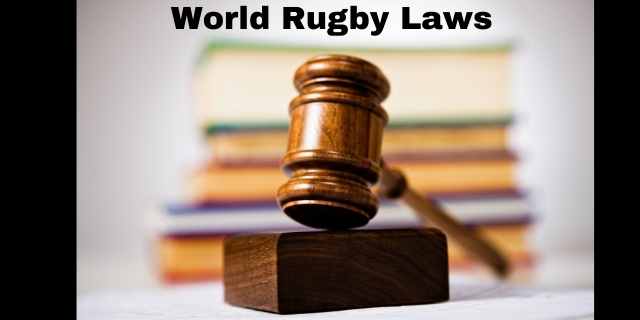 In November 2017, Dubai was hosting a leg of the World Sevens Series. Right before the opening round, the World Rugby authorities issued a new directive.
The directive was to ban messages on strapping tape during games. World Rugby expected team managers to police this directive through checking for writing on players' personal kit.
There was a negative outcry from players who largely took to Twitter to voice their disaffection.
New Zealand women's team player Niall Williams had this to say:
It's sad that in today's world we can't even write a personal message on our OWN WRISTS when we play. My daughter's initials on my wrists mean so much to me AND my daughters!

Tweet by Niall Williams
Many other players expressed similar sentiments.
And the wider public questioned why players like Christian Lealiifano shouldn't be able to wear messages that celebrate his personal fight against leukemia.
Journalists also questioned what seemed like double standards from World Rugby.
The authorities had promoted "official" slogans in the causes of anti-discrimination and LGBT rights. So, why couldn't players promote what they believe in?
Backing down
Things changed later that month when World Rugby backed down on personal messages. They changed their directive so that non-political messaging was allowed.
So, "Mum and Dad" is okay, but "Standing Rock" (in protest of the oil pipeline) was still forbidden.
But what was behind World Rugby's sudden interest in personal messages? Their statements showed that another organization was operating behind the scenes.
The IOC As Wizard Of Oz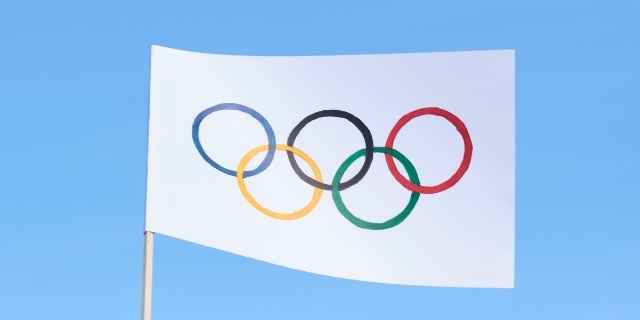 The 2016 Summer Olympics in Rio was the first time that Sevens Rugby entered the giant tournament.
The IOC is the governing authority of the Olympics. They have very strict rules against political messaging by athletes during the tournament.
The statements from World Rugby referred to the IOC's terms of participation when they maintained the directive on political messaging.
Messages On The Edge
Back in 2014, Eagles Sevens captain Jill Potter was diagnosed with cancer.
Canadian player Jen Kish took to writing a supporting message on her wrist tape. It reads "Ruck Cancer".
When World Rugby banned personal messages in early 2017, Kish was one of the players who came out to say how ridiculous the policy was.
Thankfully, World Rugby walked their policy back a little, which let Kish continue to support her friend.
But Kish's play on words might be seen by some to be on the edge of acceptability. (I've got no problem with it!)
Some players don't just walk up to the edge. They take a running jump and soar way past it.
Meet Kane Evans.
Messages Over The Edge
Kane Evans is a Rugby League player with the Warriors in the NRL (the Australian League competition).
In July 2021, he was on the bench for a Warriors game. As the 18th man, he never even got onto the field that day.
It just so happened that at one stage of the game, the TV cameras zoomed in on the bench players. Eagle-eyed viewers spotted that the prop had written an "inspirational" message on his wrist tape.
And for those who didn't see it, they didn't miss out. Amused or disgruntled fans took to social media with screen-grabs of the prop's wrist.
What did it say? Well, I won't post the screengrab here because it's too rude.
Suffice it to say that Kane had carefully written "fold some c—" on his wrist.
And he didn't use those dashes. Those are my edits!
Because fans from both sides were tweeting about it during the match, the club officials got wind of the problem. The Chief Executive himself took action.
"I made sure the message got down to the bench, and the physio ended up putting some tape over it to cover it up."

Sydney Morning Herald
Tape sure does come in handy. If only to cover another piece of tape!
This is what makes me sympathetic to rugby authorities when it comes to policing messages. They can't ignore the possibility of stupidity!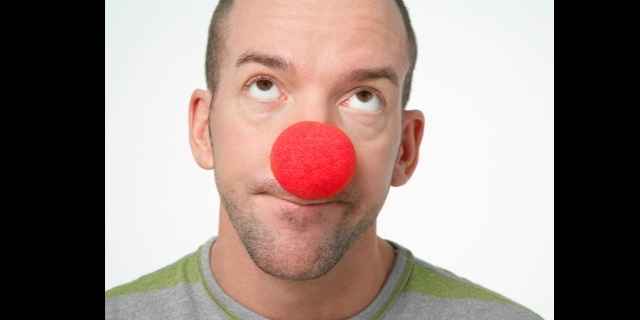 Wrist Tape Is Not Just For Messages
It may seem from this article that players wrap tape around their wrists in order to write on it. That's far from the case.
There are plenty of other reasons. Players are usually looking to achieve better performance in a match.
Check out our article on why rugby players wear wrist tape to get the full rundown.