Historically, rugby boots were made of leather with metal studs. Modern manufacturing has introduced different combinations of materials.
This article breaks down a rugby boot into different areas and looks at the most typical materials in that part of the boot.
There are also differences between what cheaper and more expensive rugby boots are made of. Read on to learn why.
What Is The Upper Made Of?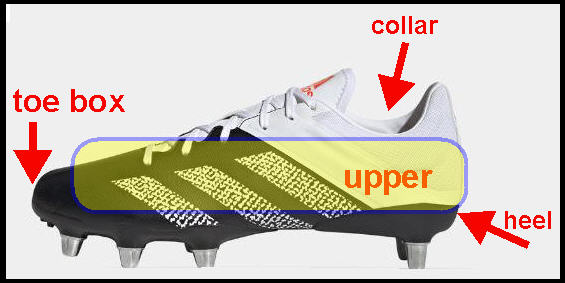 The "upper" is the part of the boot that covers the player's upper foot.
While all rugby boots used to have leather uppers, there are now a wide variety of materials in use. Each has its advantages and disadvantages.
I'm going to run through these main types:
Natural leather upper
Synthetic leather upper
Textile mesh upper
Natural Leather Upper
Natural leather is still used in the uppers of the more expensive rugby boots.
Leather is breathable and flexible. But perhaps the most important feature is that a natural leather upper actually molds itself to the player's foot over time for a snug and comfortable fit.
The downside of leather is that it's heavier than any of the synthetic materials that are used for uppers. This is especially the case if the leather gets saturated with water.
Another problem is that if the leather gets wet frequently, it can actually stretch completely out of shape.
Full-grain versus top-grain
Leather in rugby boots can be either full-grain or top-grain leather.
Full-grain leather comes from the top layer of the animal hide. It contains all of the natural grain of the leather. This outer layer has the strongest and most durable natural fibers. This makes it the highest quality leather.
However, the strong fibers make it the most difficult to work with. This means that it is a more expensive choice for manufacturers.
In contrast, top-grain leather has had the outermost layer of the hide sanded away. So, it loses the strong and durable threads of the outer layer.
But it's also thinner and easier to manipulate during the manufacturing process. That makes it a cheaper option.
How do you know whether a leather upper is full-grain or top-grain?
If the manufacturer doesn't specify the type or if it's called called "premium leather", then it's probably the cheaper top-grain leather.
Kangaroo versus calfskin
The most common sources of leather in rugby boots are kangaroo and calfskin.
Kangaroo leather is more lightweight and flexible. It molds to the foot extremely well for the most comfortable fit of any type of leather boot.
It's also the most expensive type of leather and is less durable than calfskin.
Calfskin leather is a little heavier, less expensive, and is a lot tougher. It also doesn't stretch as well as kangaroo leather.
How do you know whether a leather upper is kangaroo or calfskin?
If the type of leather is not specified, the shoe is most likely made of calfskin.
Synthetic Leather Upper
Synthetic leather may also be used for a boot's uppers. The synthetic material has a few advantages over real leather:
less expensive
able to hold its shape and never over-stretch
remains very flexible
lighter than real leather
doesn't absorb as much water on a wet day.
Another factor that may sway your purchase is the break-in time needed for new boots. We have an in-depth article on how to stretch out your rugby boots without damaging them.
But there is significantly less break-in time for synthetic leather shoes. This is because they stay about the exact same shape that they start out. Which makes it very important to get the right fit!
Synthetic leather also dries faster and is more resistant to mold, mildew, and bacteria. You can check out our tips on how to clean and dry your rugby boots without causing damage.
Disadvantages of synthetics
There are also several disadvantages to synthetic leather.
The first I'll mention is the "feel" of the boot. A synthetic leather upper will never fit itself to the player's foot the way a good leather upper will.
Aside from that, remember that synthetic leather is thinner. Which makes it lighter, but also much less durable! A synthetic leather boot has a shorter life expectancy than a leather boot.
So, you'll probably have to change boots of this type more often.
Textile Mesh Upper
Many modern rugby boots have an upper that is made from a textile mesh, overlaid, or combined with some kind of leather.
This is a good choice. The textile mesh keeps the leather from stretching out of shape over time.
It's also very light and creates an extremely pliable and breathable upper.
The mesh is water-resistant so it lets moisture escape while keeping it out of the boot.
These kinds of boots are light and comfortable, fitting almost like a sock.
Ankle Support
The part of the boot that you put your foot in is known as the collar.
The collar is generally padded. It both protects and supports the ankle and comes in varying heights depending on the player's needs.
A back may want a light, low boot that maximizes speed.
Forwards need to prioritize ankle support for when they are under pressure in a scrum. A boot that's too low can allow the heel to actually slide up inside the boot. This makes it impossible for the player to transfer full power to the ground, thus weakening their drive.
Neoprene sock
Some boots have a neoprene sock attached to the collar. This doesn't just provide extra support and protection for the ankle.
A neoprene layer also acts as a seal. It allows moisture to escape, but it helps keep out water. It'll also keep your boot from accumulating grass, dirt, or pebbles.
Heel Counter
The heel counter or heel cup sits at the very back of the boot where the heel bone is. The counter is made of rigid thermoplastic.
This supports the player's rear foot during play.
For backs, it provides support when cutting, turning, or running. For forwards, it provides support for driving in a scrum. The larger and deeper a heel counter is, the more support it provides.
Toe Box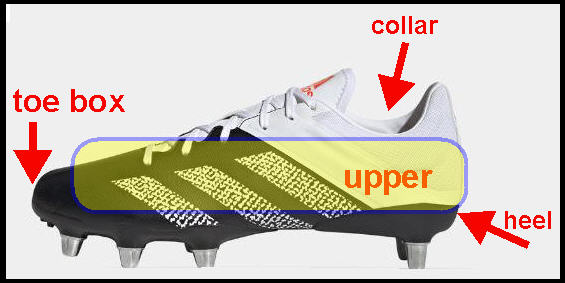 The toe box is just what it sounds like. It's a reinforced area at the front of the boot.
The toe box is designed to protect the player's toes from being injured by studs or any other kind of blow that may cause injury.
There are two common types of toe box construction:
Either type of toe box is more than capable of protecting the toes from damage by studs. But you may find one type more comfortable than the other. Let's take a closer look at both.
Molded plastic toe box
The molded plastic toe box uses thermoplastic. This is the same material that's used to make the heel counter.
It has the advantage of being light, rigid, and hard. It will never form itself to the foot like leather, but it provides solid protection.
Leather toe box
The second type of toe box is made of leather.
Leather may not be quite as stiff as the plastic toe box, but it can still provide substantial protection. It has the advantage of being more breathable.
Perhaps most importantly, leather will mold itself to the foot for a better fit. If you find that your toes are hurting at the end of a match or practice session, then you may want to check out a brand with a leather toe box.
Boots For Different Types Of Rugby Pitches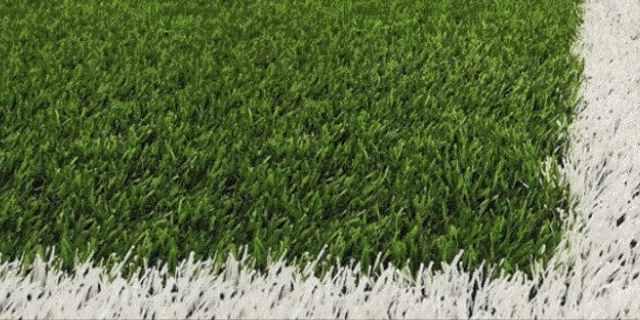 In the last decade, artificial surfaces have become more common in rugby. There are several types of pitches, and some cleats are better than others for different ground.
Check out our article on the differences between firm ground and soft ground rugby boots.
What About Studs?
The topic of studs or cleats is big enough to require a separate article.
Check out our article on rugby versus American football cleats. This goes into detail on the configuration and allowed material for studs.