This article has a list of all tries scored by players in the 2019 Rugby World Cup.
Analysis And Commentary
If you're interested in analysis based on these numbers, check out our article on which positions score the most and least tries in Rugby Union.
Tries By Players In The 2019 Rugby World Cup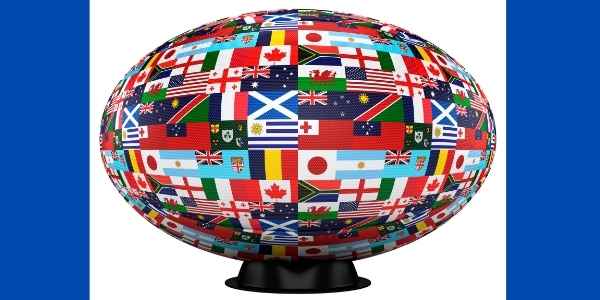 Before I present the data, I'll address some aspects that distort the figures slightly.
Notes and caveats
We excluded penalty tries from this data.
Note that the table includes tries scored by substitutes. We assigned the try to the same shirt number as the player being replaced. However, this will not always be a direct positional switch.
We describe the flankers wearing 6 and 7 as blindside and openside respectively. However, a small number of countries switch these numbers. That includes South Africa.
The data (please cite RugbyDome.com)
This data is in descending order of dates from the final back to the pool stages.
| | | | | | |
| --- | --- | --- | --- | --- | --- |
| Date | Team 1 | Team 2 | Player | Number | Position |
| 2019-11-02 | England | South Africa | M Mapimpi | 11 | left wing |
| 2019-11-02 | England | South Africa | C Kolbe | 14 | right wing |
| 2019-11-01 | New Zealand | Wales | J Moody | 1 | loosehead prop |
| 2019-11-01 | New Zealand | Wales | B Barrett | 15 | fullback |
| 2019-11-01 | New Zealand | Wales | B Smith | 14 | right wing |
| 2019-11-01 | New Zealand | Wales | B Smith | 14 | right wing |
| 2019-11-01 | New Zealand | Wales | R Crotty | 13 | outside center |
| 2019-11-01 | New Zealand | Wales | R Mo'unga | 10 | outhalf |
| 2019-11-01 | New Zealand | Wales | H Amos | 15 | fullback |
| 2019-11-01 | New Zealand | Wales | J Adams | 11 | left wing |
| 2019-10-27 | Wales | South Africa | J Adams | 11 | left wing |
| 2019-10-27 | Wales | South Africa | D de Allende | 12 | inside center |
| 2019-10-26 | England | New Zealand | M Tuilagi | 13 | outside center |
| 2019-10-26 | England | New Zealand | A Savea | 7 | openside flanker |
| 2019-10-20 | Japan | South Africa | M Mapimpi | 11 | left wing |
| 2019-10-20 | Japan | South Africa | F de Klerk | 9 | scrumhalf |
| 2019-10-20 | Japan | South Africa | M Mapimpi | 11 | left wing |
| 2019-10-20 | Wales | France | A Wainwright | 6 | blindside flanker |
| 2019-10-20 | Wales | France | R Moriarty | 8 | eight |
| 2019-10-20 | Wales | France | S Vahaamahina | 5 | tighthead lock |
| 2019-10-20 | Wales | France | C Ollivon | 7 | openside flanker |
| 2019-10-20 | Wales | France | V Vakatawa | 13 | outside center |
| 2019-10-19 | New Zealand | Ireland | A Smith | 9 | scrumhalf |
| 2019-10-19 | New Zealand | Ireland | A Smith | 9 | scrumhalf |
| 2019-10-19 | New Zealand | Ireland | B Barrett | 15 | fullback |
| 2019-10-19 | New Zealand | Ireland | C Taylor | 2 | hooker |
| 2019-10-19 | New Zealand | Ireland | M Todd | 4 | loosehead lock |
| 2019-10-19 | New Zealand | Ireland | G Bridge | 11 | left wing |
| 2019-10-19 | New Zealand | Ireland | J Barrett | 14 | right wing |
| 2019-10-19 | New Zealand | Ireland | R Henshaw | 13 | outside center |
| 2019-10-19 | England | Australia | J May | 11 | left wing |
| 2019-10-19 | England | Australia | J May | 11 | left wing |
| 2019-10-19 | England | Australia | K Sinckler | 3 | tighthead prop |
| 2019-10-19 | England | Australia | A Watson | 14 | right wing |
| 2019-10-19 | England | Australia | M Koroibete | 11 | left wing |
| 2019-10-13 | Japan | Scotland | K Matsushima | 1 | loosehead prop |
| 2019-10-13 | Japan | Scotland | K Inagaki | 8 | eight |
| 2019-10-13 | Japan | Scotland | K Fukuoka | 11 | left wing |
| 2019-10-13 | Japan | Scotland | K Fukuoka | 11 | left wing |
| 2019-10-13 | Japan | Scotland | F Russell | 10 | outhalf |
| 2019-10-13 | Japan | Scotland | W Nel | 3 | tighthead prop |
| 2019-10-13 | Japan | Scotland | M Fagerson | 3 | tighthead prop |
| 2019-10-13 | Wales | Uruguay | N Smith | 1 | loosehead prop |
| 2019-10-13 | Wales | Uruguay | J Adams | 14 | right wing |
| 2019-10-13 | Wales | Uruguay | T Williams | 9 | scrumhalf |
| 2019-10-13 | Wales | Uruguay | G Davies | 14 | right wing |
| 2019-10-13 | Wales | Uruguay | G Kessler | 2 | hooker |
| 2019-10-13 | USA | Tonga | M Te'o | 14 | right wing |
| 2019-10-13 | USA | Tonga | M Te'o | 14 | right wing |
| 2019-10-13 | USA | Tonga | T Lamborn | 6 | blindside flanker |
| 2019-10-13 | USA | Tonga | S Fisiihoi | 1 | loosehead prop |
| 2019-10-13 | USA | Tonga | M Hingano | 13 | outside center |
| 2019-10-13 | USA | Tonga | S Piutau | 12 | inside center |
| 2019-10-13 | USA | Tonga | T Veainu | 15 | fullback |
| 2019-10-12 | Ireland | Samoa | R Best | 2 | hooker |
| 2019-10-12 | Ireland | Samoa | T Furlong | 3 | tighthead prop |
| 2019-10-12 | Ireland | Samoa | J Sexton | 10 | outhalf |
| 2019-10-12 | Ireland | Samoa | J Sexton | 10 | outhalf |
| 2019-10-12 | Ireland | Samoa | J Larmour | 15 | fullback |
| 2019-10-12 | Ireland | Samoa | C Stander | 8 | eight |
| 2019-10-12 | Ireland | Samoa | A Conway | 15 | fullback |
| 2019-10-12 | Ireland | Samoa | J Lam | 8 | eight |
| 2019-10-11 | Australia | Georgia | N White | 9 | scrumhalf |
| 2019-10-11 | Australia | Georgia | M Koroibete | 11 | left wing |
| 2019-10-11 | Australia | Georgia | J Dempsey | 6 | blindside flanker |
| 2019-10-11 | Australia | Georgia | W Genia | 9 | scrumhalf |
| 2019-10-11 | Australia | Georgia | A Todua | 11 | left wing |
| 2019-10-09 | Wales | Fiji | J Adams | 11 | left wing |
| 2019-10-09 | Wales | Fiji | J Adams | 11 | left wing |
| 2019-10-09 | Wales | Fiji | J Adams | 11 | left wing |
| 2019-10-09 | Wales | Fiji | L Williams | 15 | fullback |
| 2019-10-09 | Wales | Fiji | J Tuisova | 14 | right wing |
| 2019-10-09 | Wales | Fiji | K Murimurivalu | 15 | fullback |
| 2019-10-09 | Scotland | Russia | A Hastings | 10 | outhalf |
| 2019-10-09 | Scotland | Russia | A Hastings | 10 | outhalf |
| 2019-10-09 | Scotland | Russia | G Horne | 9 | scrumhalf |
| 2019-10-09 | Scotland | Russia | G Horne | 9 | scrumhalf |
| 2019-10-09 | Scotland | Russia | G Turner | 2 | hooker |
| 2019-10-09 | Scotland | Russia | T Seymour | 14 | right wing |
| 2019-10-09 | Scotland | Russia | G Horne | 9 | scrumhalf |
| 2019-10-09 | Scotland | Russia | J Barclay | 6 | blindside flanker |
| 2019-10-09 | Scotland | Russia | S McInally | 2 | hooker |
| 2019-10-09 | Argentina | USA | N Sanchez | 10 | outhalf |
| 2019-10-09 | Argentina | USA | J Tuculet | 15 | fullback |
| 2019-10-09 | Argentina | USA | J Tuculet | 15 | fullback |
| 2019-10-09 | Argentina | USA | J Mallia | 13 | outside center |
| 2019-10-09 | Argentina | USA | J Mallia | 13 | outside center |
| 2019-10-09 | Argentina | USA | J De La Fuente | 12 | inside center |
| 2019-10-09 | Argentina | USA | G Bertanou | 9 | scrumhalf |
| 2019-10-09 | Argentina | USA | B Scully | 14 | right wing |
| 2019-10-09 | Argentina | USA | P Lasike | 12 | inside center |
| 2019-10-09 | Argentina | USA | B Scully | 14 | right wing |
| 2019-10-08 | South Africa | Canada | D de Allende | 13 | outside center |
| 2019-10-08 | South Africa | Canada | S Nkosi | 11 | left wing |
| 2019-10-08 | South Africa | Canada | C Reinach | 9 | scrumhalf |
| 2019-10-08 | South Africa | Canada | C Reinach | 9 | scrumhalf |
| 2019-10-08 | South Africa | Canada | C Reinach | 9 | scrumhalf |
| 2019-10-08 | South Africa | Canada | W Gelant | 14 | right wing |
| 2019-10-08 | South Africa | Canada | F Steyn | 12 | inside center |
| 2019-10-08 | South Africa | Canada | S Brits | 2 | hooker |
| 2019-10-08 | South Africa | Canada | D Willemse | 15 | fullback |
| 2019-10-08 | South Africa | Canada | F Malherbe | 3 | tighthead prop |
| 2019-10-08 | South Africa | Canada | M Heaton | 7 | openside flanker |
| 2019-10-06 | France | Tonga | V Vakatawa | 13 | outside center |
| 2019-10-06 | France | Tonga | A Raka | 11 | left wing |
| 2019-10-06 | France | Tonga | T Takula | 9 | scrumhalf |
| 2019-10-06 | France | Tonga | M Hingano | 13 | outside center |
| 2019-10-06 | France | Tonga | Z Kapeli | 7 | openside flanker |
| 2019-10-06 | New Zealand | Namibia | S Reece | 14 | right wing |
| 2019-10-06 | New Zealand | Namibia | A Lienert-Brown | 12 | inside center |
| 2019-10-06 | New Zealand | Namibia | A Ta'avao | 7 | openside flanker |
| 2019-10-06 | New Zealand | Namibia | B Smith | 15 | fullback |
| 2019-10-06 | New Zealand | Namibia | J Moody | 1 | loosehead prop |
| 2019-10-06 | New Zealand | Namibia | A Lienert-Brown | 12 | inside center |
| 2019-10-06 | New Zealand | Namibia | S Reece | 14 | right wing |
| 2019-10-06 | New Zealand | Namibia | S Whitelock | 5 | tighthead lock |
| 2019-10-06 | New Zealand | Namibia | B Smith | 15 | fullback |
| 2019-10-06 | New Zealand | Namibia | J Barrett | 10 | outhalf |
| 2019-10-06 | New Zealand | Namibia | T Perenara | 14 | right wing |
| 2019-10-05 | Japan | Samoa | T Lafaele | 13 | outside center |
| 2019-10-05 | Japan | Samoa | H Kazuki | 8 | eight |
| 2019-10-05 | Japan | Samoa | K Fukuoka | 15 | fullback |
| 2019-10-05 | Japan | Samoa | K Matsushima | 14 | right wing |
| 2019-10-05 | Japan | Samoa | H Taefu | 12 | inside center |
| 2019-10-05 | England | Argentina | J May | 11 | left wing |
| 2019-10-05 | England | Argentina | E Daly | 15 | fullback |
| 2019-10-05 | England | Argentina | B Youngs | 9 | scrumhalf |
| 2019-10-05 | England | Argentina | G Ford | 10 | outhalf |
| 2019-10-05 | England | Argentina | J Nowell | 14 | right wing |
| 2019-10-05 | England | Argentina | L Cowan-Dickie | 2 | hooker |
| 2019-10-05 | England | Argentina | M Moroni | 14 | right wing |
| 2019-10-05 | Australia | Uruguay | D Haylett-Petty | 14 | right wing |
| 2019-10-05 | Australia | Uruguay | J Petaia | 11 | left wing |
| 2019-10-05 | Australia | Uruguay | T Kuridrani | 13 | outside center |
| 2019-10-05 | Australia | Uruguay | T Kuridrani | 13 | outside center |
| 2019-10-05 | Australia | Uruguay | W Genia | 9 | scrumhalf |
| 2019-10-05 | Australia | Uruguay | J Slipper | 1 | loosehead prop |
| 2019-10-05 | Australia | Uruguay | D Haylett-Petty | 14 | right wing |
| 2019-10-05 | Australia | Uruguay | M Diana | 8 | eight |
| 2019-10-04 | South Africa | Italy | C Kolbe | 14 | right wing |
| 2019-10-04 | South Africa | Italy | M Mbonambi | 2 | hooker |
| 2019-10-04 | South Africa | Italy | C Kolbe | 14 | right wing |
| 2019-10-04 | South Africa | Italy | L Am | 13 | outside center |
| 2019-10-04 | South Africa | Italy | M Mapimpi | 11 | left wing |
| 2019-10-04 | South Africa | Italy | R Snyman | 4 | loosehead lock |
| 2019-10-04 | South Africa | Italy | M Marx | 2 | hooker |
| 2019-10-03 | Ireland | Russia | R Kearney | 15 | fullback |
| 2019-10-03 | Ireland | Russia | P O'Mahony | 7 | openside flanker |
| 2019-10-03 | Ireland | Russia | R Ruddock | 6 | blindside flanker |
| 2019-10-03 | Ireland | Russia | A Conway | 14 | right wing |
| 2019-10-03 | Ireland | Russia | G Ringrose | 13 | outside center |
| 2019-10-03 | Georgia | Fiji | M Gorgodze | 7 | openside flanker |
| 2019-10-03 | Georgia | Fiji | W Vuidarvuwalu | 13 | outside center |
| 2019-10-03 | Georgia | Fiji | F Lomani | 13 | outside center |
| 2019-10-03 | Georgia | Fiji | J Tuisova | 13 | outside center |
| 2019-10-03 | Georgia | Fiji | S Radradra | 13 | outside center |
| 2019-10-03 | Georgia | Fiji | S Kunatani | 7 | openside flanker |
| 2019-10-03 | Georgia | Fiji | A Ratuniyarawa | 4 | loosehead lock |
| 2019-10-03 | Georgia | Fiji | S Radradra | 11 | left wing |
| 2019-10-02 | New Zealand | Canada | J Barrett | 14 | right wing |
| 2019-10-02 | New Zealand | Canada | S Williams | 12 | inside center |
| 2019-10-02 | New Zealand | Canada | B Barrett | 15 | fullback |
| 2019-10-02 | New Zealand | Canada | R Ioane | 11 | left wing |
| 2019-10-02 | New Zealand | Canada | S Barrett | 4 | loosehead lock |
| 2019-10-02 | New Zealand | Canada | S Frizell | 6 | blindside flanker |
| 2019-10-02 | New Zealand | Canada | B Weber | 9 | scrumhalf |
| 2019-10-02 | New Zealand | Canada | B Weber | 9 | scrumhalf |
| 2019-10-02 | France | USA | Y Huget | 11 | left wing |
| 2019-10-02 | France | USA | A Raka | 14 | right wing |
| 2019-10-02 | France | USA | G Fickou | 12 | inside center |
| 2019-10-02 | France | USA | B Serin | 9 | scrumhalf |
| 2019-10-02 | France | USA | J Poirot | 1 | loosehead prop |
| 2019-09-30 | Scotland | Samoa | S Maitland | 11 | left wing |
| 2019-09-30 | Scotland | Samoa | G Laidlaw | 9 | scrumhalf |
| 2019-09-29 | Australia | Wales | A Ashley-Cooper | 14 | right wing |
| 2019-09-29 | Australia | Wales | D Haylett-Petty | 15 | fullback |
| 2019-09-29 | Australia | Wales | M Hooper | 7 | openside flanker |
| 2019-09-29 | Australia | Wales | H Parkes | 12 | inside center |
| 2019-09-29 | Australia | Wales | G Davies | 9 | scrumhalf |
| 2019-09-29 | Georgia | Uruguay | A Todua | 11 | left wing |
| 2019-09-29 | Georgia | Uruguay | O Giorgadze | 8 | eight |
| 2019-09-29 | Georgia | Uruguay | L Chilachava | 3 | tighthead prop |
| 2019-09-29 | Georgia | Uruguay | J Bregvadze | 2 | hooker |
| 2019-09-29 | Georgia | Uruguay | G Kveseladze | 13 | outside center |
| 2019-09-29 | Georgia | Uruguay | A Vilaseca | 12 | inside center |
| 2019-09-28 | South Africa | Namibia | M Mbonambi | 2 | hooker |
| 2019-09-28 | South Africa | Namibia | F Louw | 6 | blindside flanker |
| 2019-09-28 | South Africa | Namibia | M Mbonambi | 2 | hooker |
| 2019-09-28 | South Africa | Namibia | M Mapimpi | 11 | left wing |
| 2019-09-28 | South Africa | Namibia | L Am | 13 | outside center |
| 2019-09-28 | South Africa | Namibia | W Gelant | 15 | fullback |
| 2019-09-28 | South Africa | Namibia | M Mapimpi | 11 | left wing |
| 2019-09-28 | South Africa | Namibia | S Kolisi | 7 | openside flanker |
| 2019-09-28 | South Africa | Namibia | S Brits | 8 | eight |
| 2019-09-28 | Japan | Ireland | K Fukuoka | 15 | fullback |
| 2019-09-28 | Japan | Ireland | G Ringrose | 13 | outside center |
| 2019-09-28 | Japan | Ireland | R Kearney | 15 | fullback |
| 2019-09-28 | Argentina | Tonga | J Montoya | 2 | hooker |
| 2019-09-28 | Argentina | Tonga | J Montoya | 2 | hooker |
| 2019-09-28 | Argentina | Tonga | S Carreras | 11 | left wing |
| 2019-09-28 | Argentina | Tonga | J Montoya | 2 | hooker |
| 2019-09-28 | Argentina | Tonga | T Veainu | 15 | fullback |
| 2019-09-28 | Argentina | Tonga | T Veainu | 15 | fullback |
| 2019-09-26 | England | USA | G Ford | 10 | outhalf |
| 2019-09-26 | England | USA | B Vunipola | 8 | eight |
| 2019-09-26 | England | USA | L Cowan-Dickie | 2 | hooker |
| 2019-09-26 | England | USA | J Cokanasiga | 11 | left wing |
| 2019-09-26 | England | USA | R McConnochie | 14 | right wing |
| 2019-09-26 | England | USA | L Ludlam | 7 | openside flanker |
| 2019-09-26 | England | USA | J Cokanasiga | 11 | left wing |
| 2019-09-26 | England | USA | B Campbell | 12 | inside center |
| 2019-09-26 | Italy | Canada | B Steyn | 8 | eight |
| 2019-09-26 | Italy | Canada | D Budd | 5 | tighthead lock |
| 2019-09-26 | Italy | Canada | S Negri | 6 | blindside flanker |
| 2019-09-26 | Italy | Canada | M Bellini | 14 | right wing |
| 2019-09-26 | Italy | Canada | F Zani | 2 | hooker |
| 2019-09-26 | Italy | Canada | M Minozzi | 15 | fullback |
| 2019-09-26 | Italy | Canada | A Coe | 14 | right wing |
| 2019-09-25 | Fiji | Uruguay | M Dolokoto | 2 | hooker |
| 2019-09-25 | Fiji | Uruguay | E Mawi | 1 | loosehead prop |
| 2019-09-25 | Fiji | Uruguay | A Ratuniyarawa | 5 | tighthead lock |
| 2019-09-25 | Fiji | Uruguay | N Matawalu | 9 | scrumhalf |
| 2019-09-25 | Fiji | Uruguay | N Matawalu | 9 | scrumhalf |
| 2019-09-25 | Fiji | Uruguay | S Arata | 9 | scrumhalf |
| 2019-09-25 | Fiji | Uruguay | M Diana | 8 | eight |
| 2019-09-25 | Fiji | Uruguay | MJ Cat | 13 | outside center |
| 2019-09-24 | Russia | Samoa | A Leuia | 14 | right wing |
| 2019-09-24 | Russia | Samoa | A Amosa | 8 | eight |
| 2019-09-24 | Russia | Samoa | E Fidow | 11 | left wing |
| 2019-09-24 | Russia | Samoa | E Fidow | 11 | left wing |
| 2019-09-24 | Russia | Samoa | R Leo-Lo | 13 | outside center |
| 2019-09-24 | Russia | Samoa | A Leuia | 14 | right wing |
| 2019-09-23 | Wales | Georgia | J Davies | 13 | outside center |
| 2019-09-23 | Wales | Georgia | J Tipuric | 7 | openside flanker |
| 2019-09-23 | Wales | Georgia | J Adams | 11 | left wing |
| 2019-09-23 | Wales | Georgia | L Williams | 15 | fullback |
| 2019-09-23 | Wales | Georgia | T Williams | 9 | scrumhalf |
| 2019-09-23 | Wales | Georgia | G North | 14 | right wing |
| 2019-09-23 | Wales | Georgia | S Mamukashvili | 2 | hooker |
| 2019-09-23 | Wales | Georgia | L Chilachava | 3 | tighthead prop |
| 2019-09-22 | England | Tonga | M Tuilagi | 13 | outside center |
| 2019-09-22 | England | Tonga | M Tuilagi | 13 | outside center |
| 2019-09-22 | England | Tonga | J George | 2 | hooker |
| 2019-09-22 | England | Tonga | L Cowan-Dickie | 2 | hooker |
| 2019-09-22 | Ireland | Scotland | J Ryan | 5 | tighthead lock |
| 2019-09-22 | Ireland | Scotland | R Best | 2 | hooker |
| 2019-09-22 | Ireland | Scotland | T Furlong | 3 | tighthead prop |
| 2019-09-22 | Ireland | Scotland | A Conway | 14 | right wing |
| 2019-09-22 | Italy | Namibia | T Allan | 10 | outhalf |
| 2019-09-22 | Italy | Namibia | T Tebaldi | 9 | scrumhalf |
| 2019-09-22 | Italy | Namibia | M Bellini | 14 | right wing |
| 2019-09-22 | Italy | Namibia | C Canna | 10 | outhalf |
| 2019-09-22 | Italy | Namibia | J Polledri | 6 | blindside flanker |
| 2019-09-22 | Italy | Namibia | M Minozzi | 15 | fullback |
| 2019-09-22 | Italy | Namibia | D Stevens | 9 | scrumhalf |
| 2019-09-22 | Italy | Namibia | J Greyling | 11 | left wing |
| 2019-09-22 | Italy | Namibia | C Plato | 14 | right wing |
| 2019-09-21 | New Zealand | South Africa | G Bridge | 11 | left wing |
| 2019-09-21 | New Zealand | South Africa | S Barrett | 5 | tighthead lock |
| 2019-09-21 | New Zealand | South Africa | P du Toit | 7 | openside flanker |
| 2019-09-21 | France | Argentina | G Fickou | 12 | inside center |
| 2019-09-21 | France | Argentina | A Dupont | 9 | scrumhalf |
| 2019-09-21 | France | Argentina | G Petti | 4 | loosehead lock |
| 2019-09-21 | France | Argentina | J Montoya | 2 | hooker |
| 2019-09-21 | Australia | Fiji | M Hooper | 7 | openside flanker |
| 2019-09-21 | Australia | Fiji | R Hodge | 14 | right wing |
| 2019-09-21 | Australia | Fiji | S Latu | 2 | hooker |
| 2019-09-21 | Australia | Fiji | S Latu | 2 | hooker |
| 2019-09-21 | Australia | Fiji | S Kerevi | 12 | inside center |
| 2019-09-21 | Australia | Fiji | M Koroibete | 11 | left wing |
| 2019-09-21 | Australia | Fiji | P Yato | 7 | openside flanker |
| 2019-09-21 | Australia | Fiji | W Vuidarvuwalu | 13 | outside center |
| 2019-09-20 | Japan | Russia | K Matsushima | 14 | right wing |
| 2019-09-20 | Japan | Russia | K Matsushima | 14 | right wing |
| 2019-09-20 | Japan | Russia | L Labuschagne | 7 | openside flanker |
| 2019-09-20 | Japan | Russia | K Matsushima | 14 | right wing |
| 2019-09-20 | Japan | Russia | K Golosnitskii | 11 | left wing |