If you've watched a rugby match, you probably noticed that the players don't wear glasses.
So, you may be wondering if rugby players are allowed to wear spectacles. And if they're not, are they allowed use any corrective eyewear?
This article reviews the use of glasses, contact lenses, and sports goggles in Rugby Union.
Can You Play Rugby with Glasses?
Rugby players are not allowed to wear glasses during matches.
Exceptions are made for touch rugby and for young children.
The primary reason is that rugby is a contact sport, which brings the risk of glass being shattered and causing injuries.
Contact lenses and special goggles are permitted.
I'll cover contact lenses and goggles in the next sections. Here, let's look into the problems with spectacles.
Preventing Injuries
World Rugby doesn't specifically mention glass as a hazardous item. However, one of their rules lists several prohibited features that combine to make spectacles forbidden.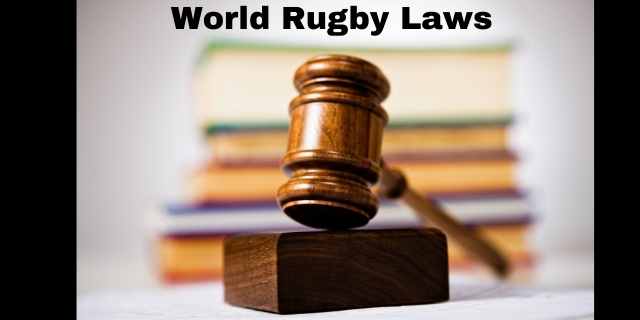 Here is what the laws say that players must not wear:
Any items containing buckles, clips, rings, hinges, zippers, screws, bolts, or rigid material…

World Rugby Laws
In the above quote, I've highlighted the problem features in my own spectacles! The hinges, screws, and bolts are probably the lesser dangers in this list.
The problem is the rigid material of glass. And when glass breaks, another rule of World Rugby comes into play: any sharp or abrasive item is also forbidden.
As the rule stands, headgear is only permitted if it cannot cause harm to the wearer or the opponent. Under this rule, religious head coverings are allowed but glasses are not.
Problems with performance
You may be tempted to wear your spectacles for a casual game of rugby in the park or at the beach.
If it's not Touch Rugby, I'd strongly advise against doing so on safety grounds.
However, there's another reason why glasses aren't a good choice for the sport. Glasses do not provide good peripheral vision which is imperative to playing a good game of rugby.
Rugby players move their heads around a lot naturally. So they need to have something that will move with them and not unintentionally impair their vision.
Touch Rugby
The only exception for adults as far as glasses are concerned is Touch Rugby.
This version of the sport does not involve tackling. Instead, players lightly touch their opponents on approved parts of the body.
Young players
Younger groups of rugby players, as in younger than eight, are allowed to wear glasses.
This is because it can be difficult to get other equipment for children. Parents may not want them to use contact lenses at this age.
The reason that this is acceptable is that very young age groups play reduced-contact versions of the sport. These may be forms of touch rugby or flag rugby.
Can You Play Rugby with Contact Lenses?
Rugby players are allowed to wear contact lenses during matches. Players are best advised to use soft daily contacts.
They should also bring several spare pairs to training and games. This is because the lenses can get dislodged during tackling and other physical contact.
Dislodged contact lenses can get lost in the mud or stepped on. If you can even find your lens, it is likely to be dirty and unusable.
Disposable daily lenses are a good choice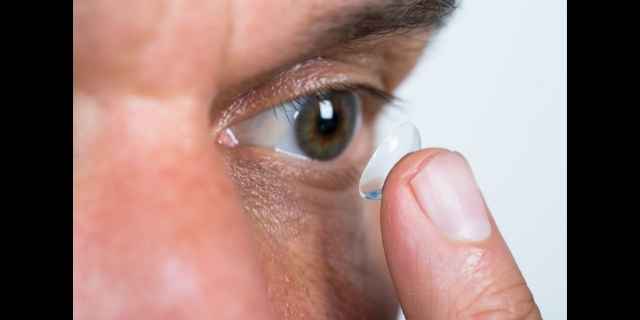 The advantage of daily disposable lenses is that they can be thrown out after a single use. They don't need to be cleaned or maintained.
Modern daily contact lenses are easily wettable and can be adjusted for varying fits and prescriptions.
Daily lenses are also cheaper to replace if a lens gets lost than monthlies.
Many players who ordinarily wear monthly lenses will use dailies just for when they are playing rugby.
Do Many Rugby Players Wear Contact Lenses?
Most players who need corrective eyewear use contact lenses. Up until very recently, they were the only safe option.
I mentioned in the introduction that you won't see players wearing spectacles during a match. But how do you know if they're wearing contacts?
Well, it becomes obvious when the lenses get dislodged!
If you watch a match on television, you may well see a player on one knee with his finger near an eye. The physio will have rushed on with the spare lens, and sometimes a little mirror.
What Happens If You Lose A Contact Lens?
Referees don't stop play just to allow a player search for a contact lens that popped out on the field.
However, if the player is critical to the next phase of play, referees will give enough time during a break to let the lens be put in place.
The most common example you'll see are front row forwards before a scrum. The referee can't allow a scrum to pack down with a full front row on both sides.
So, the referee will stop play until the player is ready.
The same thing happens for untied shoelaces!
Famous Rugby Players Who Wore Contacts
Cian Healy is a loose head prop with a long international career for Ireland.
An abrasive carrier, Healy was often seen delicately replacing a lens while the referee waited patiently to start the scrum.
Brodie Retallick is a world-class lock who usually dominates the opposition. But even the mighty All Black has to use breaks in play order to replace contact lenses during many matches.
A lucky break
Sometimes players get an extra boost from their eyewear.
Leigh Halfpenny was the first-choice fullback for Wales for nearly a decade.
Early on in his international career, he visited an opticians in Swansea to get some extra lenses.
The staff recognized the young star and saw an advertising opportunity!
They asked if they could sponsor three months' worth of contact lenses for him as well as give him a free pair of glasses.
Can You Play Rugby with Sports Goggles?
Rugby players can wear special types of sports goggles during matches.
After a five-year trial, World Rugby changed the laws of the game in 2019 to allow approved equipment. Raleri is the only current approved manufacturer.
Ian McKinley was the first international player to wear goggles.
World Rugby is striving for inclusivity and recognizes that players may be limited if they are forced to wear contacts or nothing at all to compete in rugby games.
World Rugby and optical technology company Raleri worked together to develop a sports goggle design.
The brief was to allow for a prescription but also not to increase the risk of injury to any players. That design has since been approved for players in all matches and tournaments.
First International Rugby Player To Wear Goggles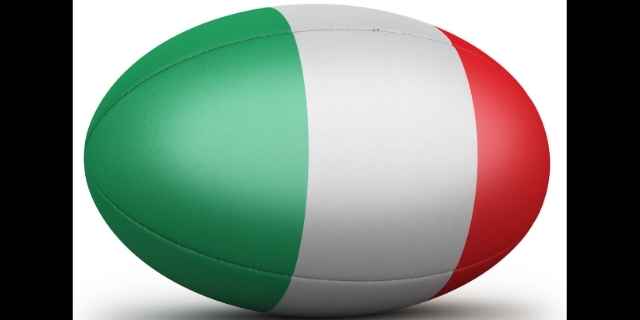 When flyhalf Ian McKinley made his debut for Italy against Fiji in 2017, he was the first rugby player to wear sports goggles in an international match.
You may have spotted that "McKinley" isn't a typical Italian surname! Ian McKinley was born in Dublin and was earmarked as a promising future outhalf by Leinster, a giant in European rugby.
Freak accident
Ian was playing club rugby in Ireland when he was tackled to the ground as happens a million times in a player's career.
Unfortunately, there was a freak accident as another player unwittingly stepped on his face. This perforated his eyeball.
While McKinley had surgery nearly immediately, his sight in one eye was considerably impaired. The young man thought his rugby career was over.
McKinley recovered a little, but he was left with about seventy percent of his vision. Unfortunately, cataracts eventually caused him to lose vision entirely in that eye.
He knew that he wanted to continue with rugby. But if he was going to do so, he would need to play with some form of eye protection.
From Ireland to Italy
McKinley moved to Italy and started coaching for a local club. It's there that he joined forces with an Italian optical technology company to design and test sports goggles for rugby.
McKinley also went back out on the field to play for the club he was coaching.
Because he had never played for Ireland, McKinley qualified to play for Italy due to his years of residence. That is how he came to make his international debut in Italian blue in 2017.
Who Invented Sports Goggles For Rugby?
Raleri is an optical technology company in Italy. They were commissioned by World Rugby to design sports goggles suitable for sport.
The design of Raleri goggles is based on military goggles that protect service members from debris on the battlefield. The design was modified to be used in rugby games.
It didn't just have to be safe for the wearer to have the goggles. It also had to be safe for the other players as contact is inevitable.
The goggles are resistant to impact and condensation build-up so they protect the wearer and still enable them to see.
They provide a wide field of view that can be completely corrective, unlike regular glasses. They are also easy to put on and take off.
Goggles combined with glasses
The goggles themselves are technically just the protective screen.
But players can get shatterproof prescription lenses from their doctor. They then have their optician install the lenses in a special insert that is mounted inside the goggles.
Ian McKinley champions the goggles as both simply eye protection but also as a means of giving players who need corrective lenses an option other than contacts.
These goggles now classify as a quantifiable medical advancement and will allow more people to play rugby and keep current players safe.
While the goggles cannot prevent concussion, they can certainly help prevent an injury like McKinley experienced on the field.