Loosehead and tighthead props play very different roles in sevens rugby than in the fifteen-a-side version of the sport. This article looks at the typical skills required from props in a sevens team.
We'll also showcase outrageous skills from some of the best sevens props in the world.
What Is A Prop In Rugby Sevens?
There are two props on the field in a sevens rugby team, the loosehead prop, and the tighthead prop.
They are defined by their positions in the scrum, with the loosehead on the left and the tighthead on the right.
Props are often stronger players who are hard runners, lift in lineouts, and hit rucks.
Scrum Positions For Loosehead And Tighthead Props In Sevens
Scrums are a feature of rugby sevens that you mostly see when a player fumbles or knocks on the ball in open play.
You'll rarely see sevens teams take the option of a scrum from a penalty – this is a little more common in the fifteens game.
In sevens rugby, three forwards from each team line up against each other, with the hooker in the middle.
Here's a trick for remembering the positions of the props. "L" for Loosehead and Left works for one prop, while "tight on right" works for the other side!
This picture of New Zealand locking horns with Australia should be clear.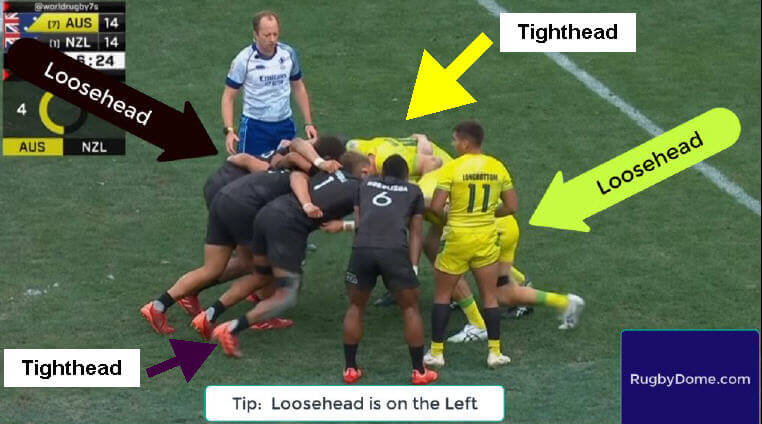 We have a separate article that delves into the role of the hooker in 7s.
Differences Between Loosehead And Tighthead Props In Sevens
Apart from the scrum positions, there aren't many differences between the loosehead and tighthead prop.
There is a sharp contrast here with fifteen-a-side rugby where the prop positions are very specialist. It's rare for fifteens players to switch between tighthead and loosehead positions.
Both props in sevens tend to be the slowest players on the field, although you'll see some very fast props in international rugby.
Props also tend to be heavier than their teammates. If a team fields a lighter or taller player as a prop, he will usually jump in the lineout. The other heavier prop will lift him.
If a team fields one older or slower prop in a game, they will usually try to compensate by picking a faster player as the other prop on the field.
Skills For Loosehead And Tighthead Props
For as long as any form of rugby has been played, there's been an ongoing joke about props needing less..ahem..fine-tuned skills than their teammates.
These jokes are usually told by fancy-dan backs, well out of earshot of the props!
Props will train for scrums and lineouts more often than some of their teammates. However, all sevens players need running, passing, rucking, and tackling skills.
Scrum skills
There is far less emphasis on the "hit" of forceful scrums in sevens than in fifteens. Even so, scrums still put pressure on players' necks. Proper technique is important for player safety.
I've chatted with players who play flanker in club fifteens rugby and switch in the summer to prop in sevens tournaments.
They often feel tiredness in their necks from those first games with just a few scrums. Drills and exercises should help ease into the season.
Lineout skills
Many teams have a taller prop who jumps to catch the ball in the line out.
This is why sevens coaches often ask flankers from the fifteens game to try playing at prop. Open-side flankers and number eights may have trained as lineout jumpers since their school days.
I've never seen a prop jump in a fifteen-a-side lineout (although they may catch overthrows). However, they usually have the lifting role.
This is also true in the sevens game, where a heavier prop will support the jumper.
Here's a lineout from a match between Fiji and the Springboks. The full South African front row forms the lineout.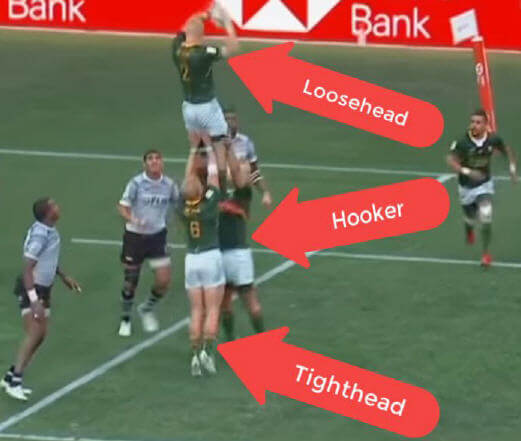 The loosehead prop jumps to catch the ball, while his tighthead teammate supports the lift along with the hooker.
Rucking skills
You'll usually see a prop rushing to support a teammate who has been tackled to the ground.
The prop crouches low to push or "ruck" the opposition off the ball.
Running and passing skills
We expect the halves, centers, and wingers to show flair and silky attacking skills. But sevens fans probably get the biggest thrill when a prop races through tackles or throws an outrageous pass.
I've put together a video with brilliant attacking plays by looseheads in a single match.
The match was a semi-final between Fiji and South Africa in the LA Sevens of 2020.
There are several fine props on display, but Fijian loosehead Sevuloni Mocenacagi shone particularly brightly that day.
If I had to pick out one highlight, it would be his outrageous out-the-back pass for his teammate to score a try.
Can Props From Fifteens Rugby Also Play Sevens?
The need for strong fast running by props in the sevens game is the reason why few props from fifteens game try their hand.
I've never heard of an international prop in fifteens rugby also playing for a national sevens team.
But you'll find the odd club player who fancies their chances. "Odd" being the considered view of their fellow props!
Here's a quote from a club prop who was crazy enough to play sevens in the summer.
I wait until all the pacy little blighters speed past me when my team is attacking.

Then I shout "I'm the sweeper" and swivel my head as if I'm watching for an intercept.

Great way to catch a breather!
I asked another club fifteens prop why he enjoyed watching sevens rugby even though he never togged out in sevens season.
I get the biggest laugh from watching the 7s lads try to scrummage.

They gently fall against each other in what passes for a scrum.

And they can't even do that right!
To be fair, he was being tongue-in-cheek. There are very few scrums in a sevens match, and he had the highest respect for the rest of the skills in the game.
What Number Does A Prop Wear In Sevens?
You may know that the starting props in fifteen-a-side matches wear the numbers one and three for loose and tighthead respectively.
It just so happens that in our featured game, the Fijian loosehead also wore one on his shirt. But that isn't a requirement.
The governing body of Rugby Union doesn't insist that specific positions wear specific numbers. However, they do require that shirt numbers are restricted to one through twelve in a squad of twelve players.
Some players are superstitious about the number on their jersey, and coaches can accommodate this in sevens. Wingers can wear "1" and props can wear "11".
But what if the loose and tighthead prop both demand the same lucky number? This was the reaction of one weary coach.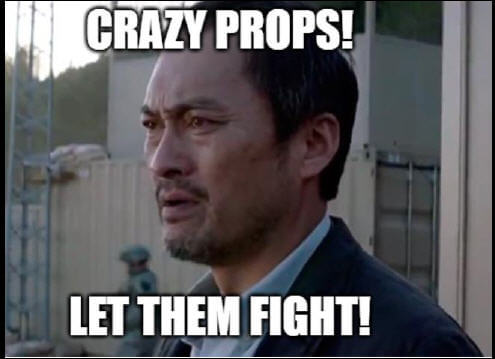 I'm joking, of course.
Switching To Sevens From Playing Fifteens Rugby
Many club players enjoy playing fifteen-a-side rugby in the Winter season and sevens rugby in the summer.
If you're thinking of giving sevens rugby a go, you may be wondering which position would suit you best. Always figured you're a scrummager trapped in a scrum-half's body?
Let's take a look at which fifteens' positions are the most common to transfer to prop in sevens. Remember, this isn't cast in stone.
Club level
At club level, coaches often pick props who played back row in the fifteens game. They are typically the fastest forwards in fifteens, but of course, are also strong.
Centers in fifteens rugby often play as a combination of one bigger player for a power game and a silkier player who can step into a fly-half role. If the big bosher has a decent pass, they might make a great prop in sevens.
International level
You'll also find international sevens props who play club fifteens at back row and center. Tim Agaba played loosehead for the Springbok sevens and flanker at club level.
But I also see examples of big wingers in the fifteens game who run out as prop in international sevens tournaments.
Other Positions
We have an overview on all positions and roles in sevens rugby, with links to separarate in-depth looks at each position.