There are few sights more exciting in rugby than a player jumping over a tackle to touch the ball down for a try. However, players who hurdle tackles in the middle of the field may be penalized by the referee.
So, what's the difference?
First, we'll look at different ways of jumping to evade a tackle. Then we'll look at some examples of what is and isn't allowed. It's not as straightforward as it may seem.
Jumping To Evade A Tackle In Rugby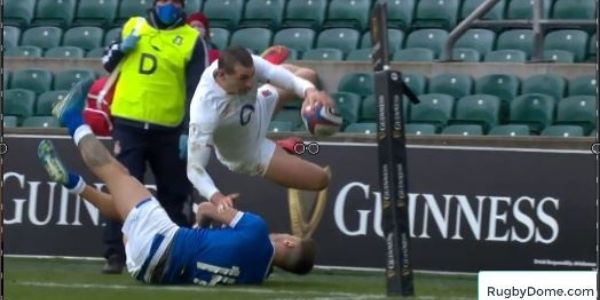 Let's nail down what we're talking about. Here's the scenario, regardless of where the play is taking place:
The ball carrier is running straight down the pitch. The defender approaches from the side and launches a low tackle.
Tacklers usually want to make initial contact at waist height.
But if they're not close enough to the ball carrier, they'll reach out to wrap on or below the knees.
A smaller defender may choose to tackle low to avoid being bounced or pushed away by a bigger player.
So, how can the ball carrier evade a low tackle? Broadly speaking, there are four ways:
Accelerate out of reach
Sidestep or swerve out of reach
Jump out of the tackle
Jump over or hurdle the tackle
We're going to focus on jumping out or over tackles in this article.
High Steps To Jump Out Of Tackles
You'll often see tall players lift their knees high when they make a break. This makes the defender's task more difficult to grasp their legs.
But that's not really jumping over a tackle, is it? The tackler may even catch a foot but the stepping motion shakes the defender free. This is jumping out of a tackle in rugby.
And there's no chance that a defending wing left flailing in the wake of a high-stepping lock will be given a penalty. Egg on face is all they'll be left with!
You may wonder why every player running with the ball doesn't resort to high stepping.
Well, it can be an unnatural running motion that slows down acceleration and speed. Beating a tackle through acceleration is far more effective as it brings you further downfield.
Jumping Over A Tackle Within The Field Of Play
Instead of simply lifting the knees, the ball carrier may leap upward as they run. This is also known as hurdling the tackler. It's time to show an example.
Welsh flyer Shane Williams was one of the greatest wingers of the game, and also one of the smallest. A devastating stepper, he usually wrong-footed his opponents.
But occasionally he hurdled them instead.
Video evidence
In the video, he jumps over Topsy Ojo in a match between Welsh club Ospreys and English club London Irish.
His adversary was no mug. Like Williams, Ojo was also a test-level winger who played for his country (England) and the British & Irish Lions.
Referee's verdict
Ojo was convinced a foul had been committed against him and waved his arms at the referee.
Shane Williams had lost the ball when a second tackler made contact, and another defender picked it up and ran it back.
The referee waved play on. No infringement, no penalty kick!
Interestingly, it looks like one of Williams boots clipped Ojo's shoulder.
Remember, this was way back in 2010. Since then, there has been a huge emphasis in rugby on protecting players' heads and necks.
Williams actions were so close to Ojo's head that I'm sure it would be penalized now.
But that's because Williams is not jumping for the try line. In practice, a lot of leeway is given for players jumping in the act of scoring a try.
Let's take a look!
Jumping Over A Tackle To Score A Try
In the Six Nations championship in 2021, England winger Jonny May scored a spectacular try against Italy.
The Italian winger launched into a tackle to try to knock his opponent out of play at the corner flag. May leaped up and over the defender, and touched the ball down over the try line.
The match officials didn't even consider whether this was an infringement.
They reviewed the footage to check whether May had put a foot in touch before grounding the ball.  Satisfied, they awarded the try.
If you want more examples, check out our article on why players dive to score tries.
Different Referees, Different Verdicts
May's skill was applauded far and wide, but questions were raised immediately about the legitimacy of the try.
Most notably, Welsh referee Nigel Owens stated his opinion that this was dangerous play by the ball carrier. He said that the verdict should have been a penalty to Italy, not a try to England.
Nigel Owens isn't just any referee. He had recently retired as an international match referee, but he is one of the most renowned whistlers in the sport.
His point was that diving for the line to score a try is allowed. However, jumping up into the air to avoid a tackle is not. This is what he had to say on Twitter.
Should be PK [penalty kick] he jumps up to avoid tackle that's not a dive for the line

Nigel Owners, Twitter
In contrast, retired referee Jonathan Kaplan thought it was perfectly legitimate.
There were some suggestions [] that Jonny May's try should have been disallowed for jumping out of the tackle.

I'm afraid I don't see any issue – this was a brilliant finish that was quite rightly awarded.

Jonathan Kaplan, Daily Telegraph (behind a paywal)
How Do Two Referees See Jumping Over A Tackle So Differently?
Personally, I think Kaplan is being a bit disingenuous when he says he can't see "any issue".
If there wasn't an issue, you wouldn't have different referees giving different opinions. Did Kaplan not see that May's boots were inches from Luca Sperandio's head?
Don't get me wrong. I also think the referees were right to award a try given that precedent favors players jumping in the act to score a try.
But I accept there is an issue to be judged, and the decision is down to the interpretation of the match referee on the day.
The real issue is that there is no law in rugby that states players cannot jump up to avoid a tackle or jump out of the tackle. Maybe it's time to be explicit about it in the law books.
Jumping into tackles
But what about jumping into a tackle? What if a player attempts to hurdle a defender with no chance of clearing his opponent? Well, of course there's an issue that must be judged.
We've got a separate article on jumping into tackles in rugby that has several examples where a penalty is awarded against the ball carrier.