Rugby balls are made from a variety of materials, some of which are more difficult to recycle. Recycling centers that accept tires are more likely to accept rugby balls. Alternative options are:
Selling (when branded or signed)
Donating playable balls
Repurposing in the home
This article reviews these options in detail.
Why Rugby Balls Are Difficult To Recycle
Modern rugby balls are usually made up of these materials:
Synthetic plastic casing
Latex or butyl rubber bladder
Polyester thread
Glue
Older rugby balls may have leather casings around a latex bladder.
This mix of materials means that rugby balls are more difficult to recycle.
For example, you shouldn't try to dispose of a rugby ball with your household plastic recycling.
Do Recycling Centers Accept Rugby Balls?
Recycling centers that accept tires are most likely to accept rugby balls. Smaller centers may not be able to process the material.
You may have the best chance if you cut open the casing and separate the internal bladder.
The bladder will likely be latex rubber, which should be accepted by centers that recycle rubber. The casing will be either synthetic plastic or leather. Of course, both materials are recycled differently.
Staff at recycling centers are knowledgeable and can often give instant advice.
But as rugby is a niche sport, they may not be familiar with what's inside a rugby ball. Show them the inside of the ball!
Is Your Old Rugby Ball Worth Something?
Before you dispose of that old rugby ball in the attic, check if it has a value to interested rugby fans.
Leather balls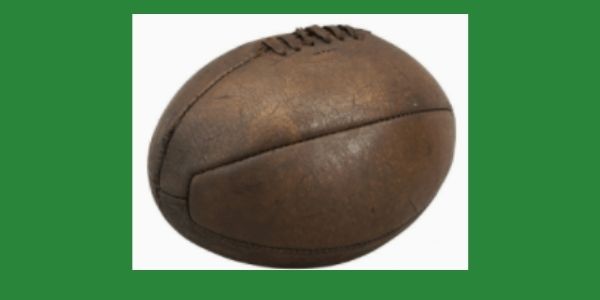 Older leather balls in good condition may fetch a decent price in online auctions. At the time I wrote this article, there was a leather ball for sale on eBay for about $8 and another for $230.
The main difference may be the condition of the ball. Most prospective buyers want a display piece. It's a popular choice for bars and public houses frequented by rugby fans.
But what if the ball is in poor shape?
There still may be value in an unburst and unperished bladder. Rugby fans are often on the hunt for replacement bladders for leather balls. Check out our article on bladders in rugby balls.
You may not get much more than a few bucks for a latex bladder, but the buyer will be grateful! You should throw in the laces as well.
Tournament or commemorative branded balls
The major rugby tournaments choose one manufacturer as the official ball supplier for match balls. The chosen company will also sell limited numbers of branded replica balls to the public.
When I wrote this article, a replica ball from the 1995 World Cup is on eBay for about $270.
And to my surprise, this mini ball from the time of the inaugural Rugby World Cup is on sale for 50 bucks!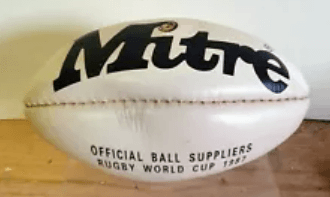 I remember these were sold in the local shops in 1987. I may even have had one myself.
Unfortunately, the mini ball is the perfect size for dogs to get their teeth around! That may explain the current value.
Signed rugby balls
At the time of writing, there is a mini ball on eBay that is signed by a world cup winning captain. The asking price is $270!
You probably don't have one of these at the back of the garage. But did your dad go to rugby matches in his youth? And did he hang around looking for players to sign a ball?
With a bit of luck, he chased down a local noteworthy player. The ball may not have a monetary value – but a local sports bar may be delighted to take it off your hands. That's recycling!
Donate Your Rugby Ball For Continued Use
If the ball is in playable condition, then consider donating it to a local club or disadvantaged group.
Here is a common scenario where you have a set of unwanted but playable rugby balls at the end of the garden. It happens when you or your children have outgrown smaller sized balls. Your age group may have moved from size 4 to size 5.
Many clubs have mini and youth teams that always need a supply of smaller sized balls. All the better if you can find a club in a more disadvantaged area.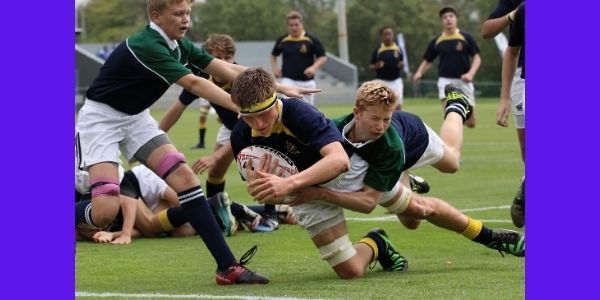 Donate To Specialist Repurposing Companies Or Groups
There are companies out there that that repurpose rugby balls into other goods like pencil cases and bags. Often, all or a portion of the profits are donated to charity.
Here's an example in the United Kingdom.
There are more companies doing this with soccer and basketballs in the United States. But those firms may welcome the novelty of a rugby ball.
Your local rugby club may also get involved in refurbishing old balls and sending them in batches to disadvantaged groups. The club may even be twinned with a club in a developing country.
This tends to take place within a week set aside on an annual basis to do the refurbishing work. Keep an eye out on fliers through your letterbox or signs on the club's gates.
Repurpose Rugby Balls For Other Use In The Home
You'll get lots of ideas if you do an internet search for repurposing footballs or basketballs. Most of the ideas should apply to rugby balls. Here are some options…
Garage Parking
This idea is to attach a cord or string to your rugby ball and hang it from the ceiling at the back of your garage.
This is to protect you (or your teenagers!) when reversing your car into position. Knocking the soft ball will ensure you won't go too far and ding the bodywork off the wall.
Boat Parking
I saw a great picture on Facebook by a boating enthusiast. He dangled a rugby ball on a rope from the side of his boat. Instant buffer protection when berthing!
Hanging Plants
Unlike the previous examples, this involves a deflated ball. Cut the ball in half and use each half as a plant hanger.
You'll find plenty of examples on Pinterest if you search for repurposing basketballs and soccer balls.