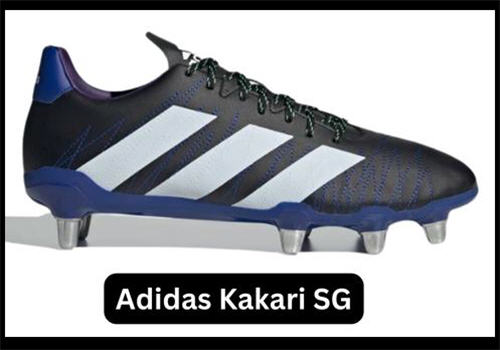 Best For:
Forwards playing on soft or muddy grass pitches who want a budget option under £70.
The Kakari SG is the entry-level boot within the Kakari range.
Weight, Size, And Width
Famously lightweight when compared to traditional leather brands.
Weight: UK size 8.5 is 399g.
Sizing: Most club players we surveyed wore a half-size higher than their trainers.
Width: a wider fit than many other manufacturers.
Availability
You may not always find your shoe size in shops and online stores.
You can use this link to check availability on Amazon.
Our Performance Ratings
These ratings are based on feedback from 23 amateur club players in England and Ireland who have owned Kakari SG boots.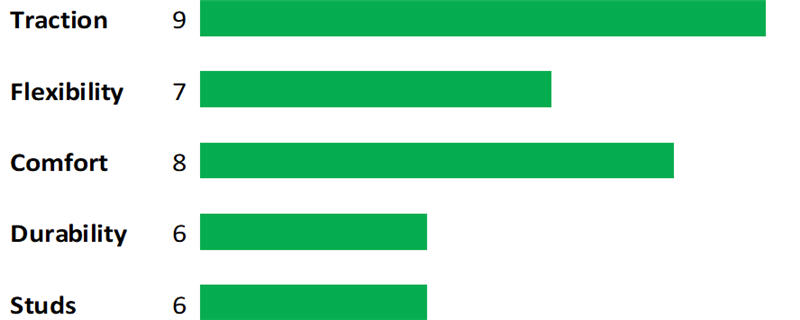 Although the performance rating for the studs are low, the Kakari studs are of good quality.
But some players weren't happy that their purchase didn't come with replacement studs. You can read more in the rating section below.
Kakari SG Pros And Cons

Top-tier traction and grip
Comfortable fit for a budget price

Doesn't last more than a few seasons
May not come with replacement studs
Best For Positions
The Adidas Kakari range is designed for forwards. The boots are built for heavier players who need great grip on soft ground.
The SG in the model name of this boot stands for "soft ground". If you're not sure what this means, check out our article on soft ground vs firm ground boots.
Most of the owners we surveyed play in the tight five: props, hookers, and locks.
A smaller number of players in the back row also choose the Kakari SG. In general, these were heavier players.
Openside flankers may prefer boots more tailored for speed.
Prop forward reviews:
"These are the go-to front row boots at my club."
"I primarily play loosehead prop. Get the ones with the forwards stud pattern." *
* Editor note: all the Kakari boots come with a forwards stud pattern i.e. eight studs.
Lock forward review:
"Extremely comfortable and fit fairly wide and have plenty of padding."
Back row review:
Fits perfectly and feel very springy while running, strong studs but still light weight good for backrow players.
Traction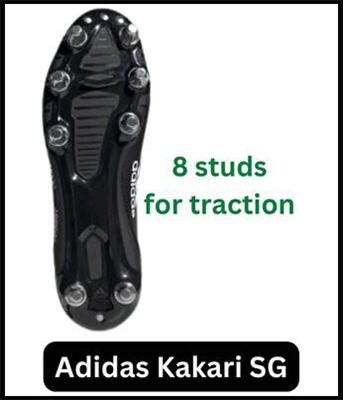 The Kakari SG has an eight-stud configuration designed to give the best grip in rucks, scrums, and mauls on soft ground.
The inner shoe has padding that provides a snug fit. You shouldn't experience heel-slipping in these boots.
Although the boot has some drawbacks, the forwards we surveyed rate it as one of the best available boot for traction.
Are the studs long enough?
Some forwards told us that the studs that come with the boots aren't long enough for very muddy grounds.
They upgraded to inch-long studs for the back two, and slightly shorter ones for the front six.
Player reviews:
"Very cheap, very stylish, fit very well, good traction on the ground."
"Was looking for something lighter than my last pair but still with enough studs and grip for forward play. Seems to be doing the job."
Flexibility
The entry-level Kakari SG doesn't come with a split soleplate. This reduces the flexibility a little when compared with the more expensive options.
But that is just fine for the more traditional forwards.
If you're more of the dynamic side-stepping forward who likes joining the backs, then you should probably look at the higher Kakari models.
The Kakari SG also has a synthetic upper. This helps with making the boot lighter.
However, the synthetic material isn't as flexible as the materials used in the higher models.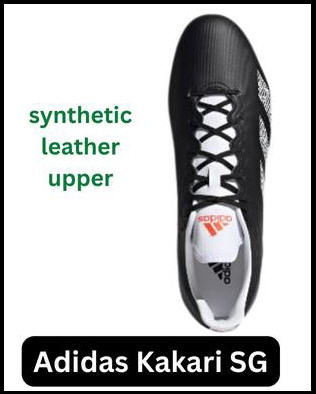 True Size Or Size Up?
If you go with your usual shoe size, expect the Kakari SG to be a snug fit. This may be exactly what you want, especially if you have narrow or average-width feet.
If you have wide feet, then you should go up a half-size.
Player reviews
"I'm a 10.5 and get an 11 in the Kakaris."
"Went for 1/2 size bigger (11 1/2) and it was perfect fit for my 16-year-old son."
Comfort
The entry-level Kakari SG is about 10 g heavier than the more expensive Kakari models. But that is still lighter than most other brands.
Just because the Kakari SG is a lightweight boot, don't think that your feet will get wrecked in rucks and mauls.
There is plenty of padding for protection. Most players we surveyed emphasized how comfortable they were.
Player reviews
"Extremely comfortable and fit fairly wide and have plenty of padding."
"Really comfortable boot. Half-size bigger and they would have been perfect."
Some reports of blisters
When we surveyed English and Irish club players, some had switched from Kakaris due to developing blisters on their heels.
"I always get heel blisters from my kakaris too, all three that I've had. Always have to tape my heels to prevent it."
This was a minority of respondents, but it's still worth knowing about. It's possible that a less common foot shape has something to do with this.
Durability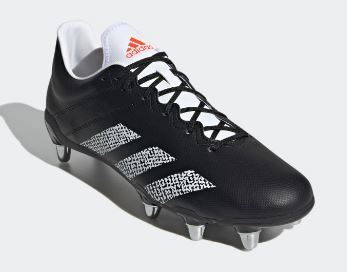 Most players reported that they got two seasons out of the boot before it started to deteriorate.
Some admitted that they didn't pay much attention to taking care of their boots!
I was amused by one complaint on the Adidas website by a customer who bought a white coloured pair:
"Hard to keep clean. Hard to keep them white. Looked great on 1st use."
I'd send him to our guide on cleaning rugby boots.
Some negative feedback
Several club prop forwards reported that the soleplate separated from the boot within a single season.
Here is one comment:
"The soleplate on my Kakaris completely came off my boots last year, after about 10 games."
These guys tend to be the heaviest on the field.
If you are a larger player, you may need to replace your Kakari SGs each year. If that is happening, then I recommend you move up a model.
You'll likely find that the more expensive models are more cost-effective in the long run.
Soft Ground Studs
The Kakari SG comes fitted with eight large soft-ground studs.
The configuration is in what's known as the "forwards pattern". There are six studs at the front of the boot, and two slighter longer studs at the heel.
We recommend that you don't wear your Kakari SG boots on firm ground pitches.
You should also avoid wearing them on artificial pitches.
Tip: replacement studs not included
Several disappointed customers complained on the Adidas website that their new boots didn't come with replacement studs.
They were also annoyed that there wasn't a stud-tightening tool in the box.
This is one way that the manufacturer keeps the price low. So, you'll probably have to buy replacement studs at some point.
And this is where another downside appears. You can't use generic studs for your Adidas boots.
Tip: only buy Adidas studs
In recent years, Adidas switched to using a proprietary stud thread in their new designs.
This means that you can only use their own-brand studs as replacements.