We added the dramatic music to this video of the Kakari Elite.
Turn down the sound if you're in the office! Turn it up if you're not!
Best Suitable For:
Forwards who want extra traction on soft ground and enough flexibility for dynamic open play.
Weight, Sizing, And Width
Famously lightweight when compared to traditional leather brands.
Weight: UK size 8.5 is 389g
Sizing: Most club players we surveyed went up a half size for a comfortable fit.
Width: a wider fit than many other manufacturers
Performance Ratings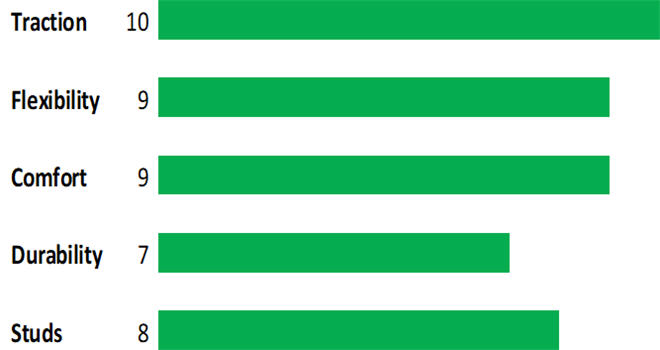 Adidas Kakari Elite Pros And Cons

Top-tier traction for forwards on soft or muddy grass
Flexible for acceleration and dynamic play

True size is a narrow fit, you may need to return for a larger size
Uses proprietary studs, less easy to find replacements
Best For Position
The Adidas Kakari range is designed for forwards who need the best grip they can get on soft ground.
The stud size and configuration are designed to give maximum stability in scrums and mauls.
The boots have an 11 mm heel drop to give explosive acceleration when taking crash-ball or hitting rucks.
They are very popular with players in the tight five: props, hookers, and locks.
However, back row players also go for the Kakari Elite due to the design of its split outsole.
The greater flexing of the split plates helps in twisting to evade tackles and deliver offloads.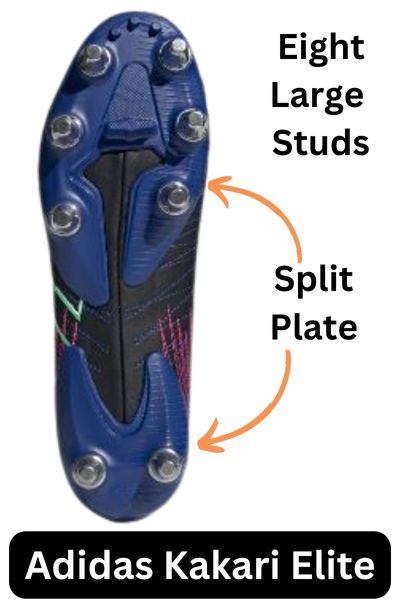 Tight five reviews:
"Fits snug to the foot and allows me to the best when scrummaging. Big studs to dig in and a tongue that acts like a foot snatch or footholder."
"A quality, comfortable boot for tight 5 players offering good grip and support."
"As a lock I've personally found Adidas to be the best rugby boots."
Flanker review:
"Perfect combination of support, strength, stud size and comfort."
Traction
The Kakari Elite has an eight-stud configuration designed to give the best grip in rucks, scrums, and mauls on soft ground.
The Elite model also comes with an inner support strap to provide extra stability. You shouldn't feel your foot slipping within these boots.
Several players in our survey commented about the tongue giving extra grip to the foot. Here's one response:
The tongue acts like a foot snatch or footholder.
However, the tongue can also make for a tighter fit than you might expect. That's why plenty of players go up a half size.
Take a look at the pic below. You may not want the white version of the boot, but it's easier to see the tongue in a picture!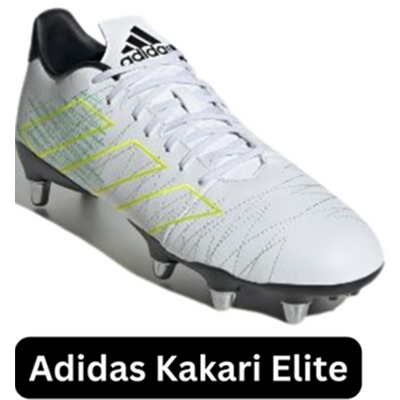 Are the studs long enough?
Some forwards told us that the studs that come with the boots aren't long enough for very muddy grounds.
They upgraded to inch-long studs for the back two, and slightly shorter ones for the front six.
Flexibility
The Kakari Elite has a split outsole. That means that the sole is built in two pieces: a heel pad and a toe pad.
If you're curious, this design is also a feature of ballerina shoes! The goal is the same in both activities: providing maximum flexibility.
The boot flexes more when your foot twists or rolls on the turf. This isn't needed when pushing in the scrum.
But it's a great advantage when front-rowers are bending and twisting to roll players out of rucks.
The extra flexing also helps with that cheeky side-step to target a soft shoulder.
The flexibility also helps when twisting in the tackle to get an offload away.
Is the upper really leather?
The Adidas specification says that the Elite model has a leather upper.
That isn't true. The material is synthetic leather from about the midfoot to the toe. However, the upper is textile from the midfoot backward.
Textile is more flexible than synthetic leather so this gives extra give and stretch while your foot moves on the ground.
In contrast, the upper of the cheaper Kakari SG model is entirely synthetic leather. This is why the Elite is more flexible than the SG.
Should You Size Up?
The extra inner support strap and the design of the tongue makes the Kakari Elite a snug fit when you go true to size.
Players with narrow feet may find this perfect.
Based on our survey, we suggest that you go up a half size if you have wider than average feet. I'd expect squat props and tall locks to have wider feet than the average person.
Player reviews
"I found I needed to be 1/2 a size up to allow for a bit more width."
"I returned them for a bigger size, I'd say order half a size bigger than you normally would."
Comfort
Adidas has put significant padding inside the boot to protect your foot.
Many respondents in our survey of club players in England and Ireland commented on how comfortable these boots are.
One guy was on his third pair:
"A quality, comfortable boot for tight 5 players offering good grip and support. This is the third pair of Adidas rugby I've purchased as I've always been impressed."
The padding, the textile rear upper, and the split sole combine for a softer experience.
However, as small number of players reported that they developed blisters on their feet.
The boots look great but have caused me large blisters.
It's possible that this would be alleviated with a half-size larger boot.
Durability
Unlike the lower-price Kakari SG, most owners of the Elite model found that their boots lasted for over three seasons.
However, there may be another factor involved than just quality.
Players who spend more on one pair of boots often use a second cheaper pair for training. That means their game-day boots don't get as much wear and tear.
Rare manufacturing issue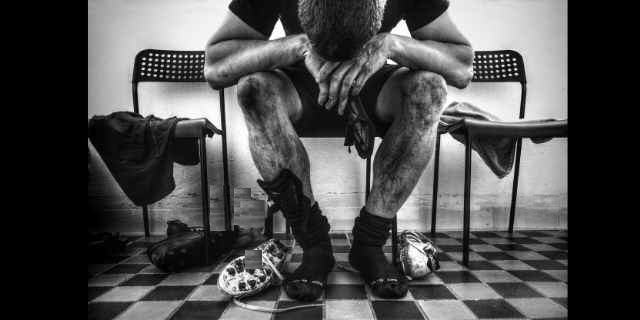 I noticed one significant complaint on the Adidas website:
"First time my son wore these the soles moved, came away from the boot, and are uncomfortable while playing rugby.

For £100 I would have expected them to last a bit longer."
None of the players we surveyed experienced this problem with the Elite model. However, the same problem was mentioned once with the cheaper SG model.
I suspect this is an occasional factory issue during manufacture. If you have this problem, you should return the boots for a replacement.
Soft Ground Studs
The Kakari Elite comes fitted with eight large soft-ground studs.
We recommend that you don't wear your Kakaris on firm ground pitches.
I've heard complaints from people who bought the cheaper SG model that the box didn't come with replacement studs.
But you should get a spare set of studs with your purchase of the Elite model.
Warning: only buy Adidas studs
In recent years, Adidas switched to using a proprietary stud thread in their new designs.
This means that you can only use their own-brand studs as replacements.